When is the Best Time to go Skiing in Colorado?
Colorado offers some of the best skiing, not only in the U.S but in the world (in our opinion anyway). It's a destination which is a must-visit on any ski enthusiasts list. The state offers extensive and spectacular views and most importantly, brilliant snowfall.
The central location of Colorado and with Denver Airport nearby to most of the resorts, make this state the perfect ski destination. The big question before booking your holiday for many people is when the best time is to go skiing in Colorado? Most people get 1 ski holiday per year, so the last thing anyone wants to do is waste this opportunity to be met with poor snow.
First things first, what's your choice when it comes to ski resorts in Colorado…
Colorado Ski Resorts
Aspen
This Colorado ski resort gives you access to 337 individual pistes, which are accessed by 43 ski lifts. It's hard to determine which ski resort is the best in the world. However, one thing is for certain, Aspen does feature of many people's top 5 choices.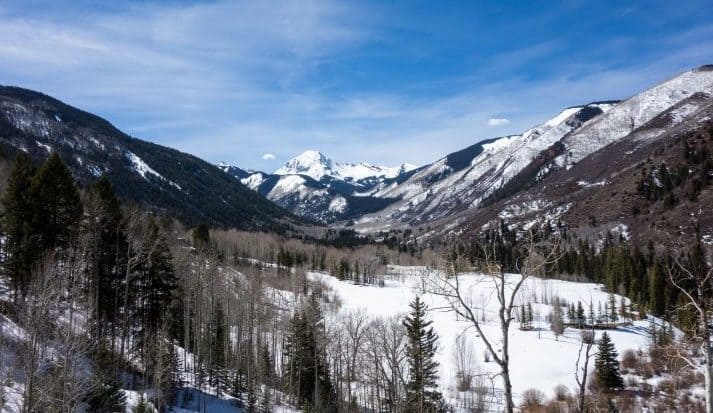 © Photo by Robert Tadlock (www.flickr.com/photos/rtadlock/33398229432/)
Denver Airport to Aspen transportation takes approx. 3hrs30mins
Beaver Creek
This ski resort is fantastic for those looking for a family-break to remember. Natural snow isn't hard to come by in Beaver Creek, with this resort being one of the highest ski areas around. Not only that, if for some reason natural snow is in short supply, the resort has invested in cloud-seeding technology to make more snow!!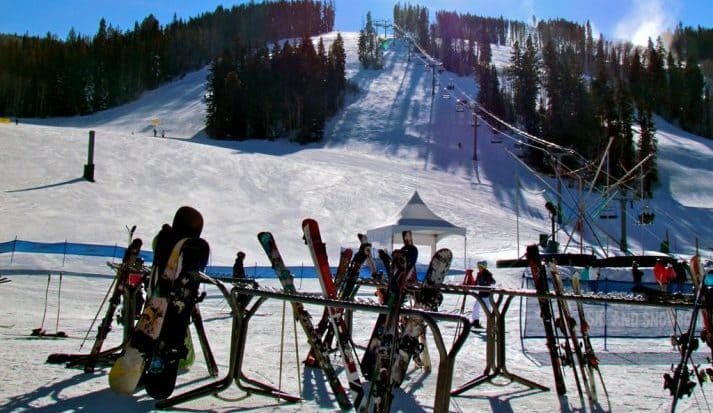 © Photo by Jeff Gunn (www.flickr.com/photos/jeffgunn/6576479141/)
Denver Airport to Beaver Creek transportation takes approx. 2hrs30mins
Breckenridge
If you're looking for a ski resort to really challenge for skiing abilities, then Breckenridge is the place for you. Skiers have access to 187 individual pistes, which are accessible via 35 ski lifts. Although there are plenty of black runs here, it is a ski resort suited for all abilities.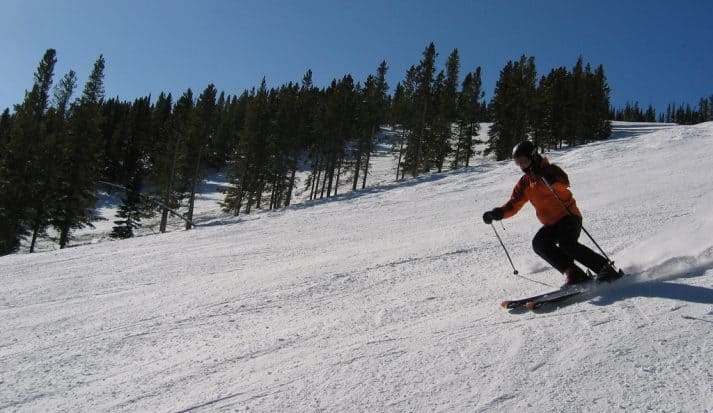 © Photo by John Johnston (www.flickr.com/photos/ateabutnoe/136116927/)
Denver Airport to Breckenridge transportation takes approx. 2hrs
Copper Mountain
Fancy skiing in a resort where the US Ski Team trains for its speed events? Well, Copper Mountain is the place for you. Even if you're not up to the US Ski Team's level (is anyone?) Then you'll still love this resort, with plenty of runs to suit all abilities.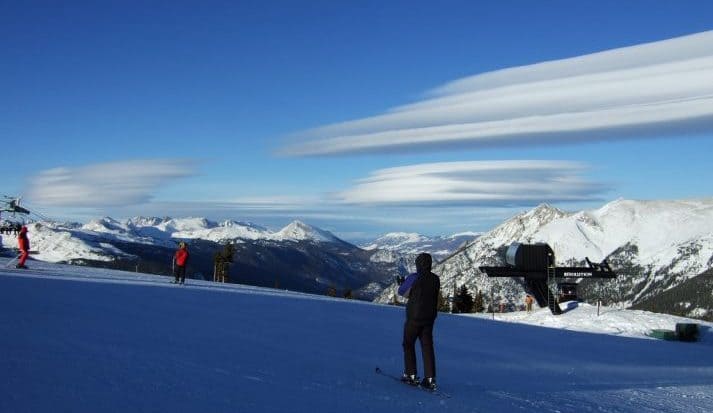 © Photo by Scott Brenner (www.flickr.com/photos/sebrenner/3152760268/)
Denver Airport to Copper Mountain transportation takes approx. 2hrs
Keystone
Once again, another heavily family-focussed resort based in Colorado – Keystone. Of course, family-focussed doesn't mean it's a drag for the parents and you won't have fun on your holiday. Parents… Feel free to enjoy skiing in black runs or even participate in night skiing.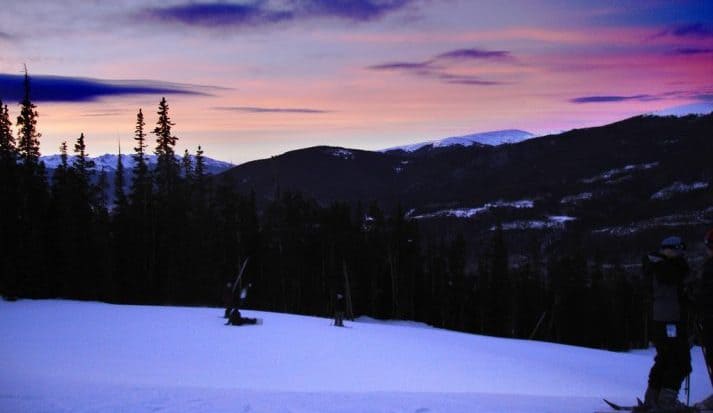 © Photo by Ben Onken (www.flickr.com/photos/benkun2000/348351119/)
Denver Airport to Keystone transportation takes approx. 2hrs20mins
Snowmass
Snowmass is literally covered in masses of fresh Colorado powder regularly during the season. One of the locals (who happens to be the World Extreme Skiing Champion) says, "Snowmass has some of the best steeps, cliffs, couloirs, backcountry, terrain parks, and powder anywhere in North America."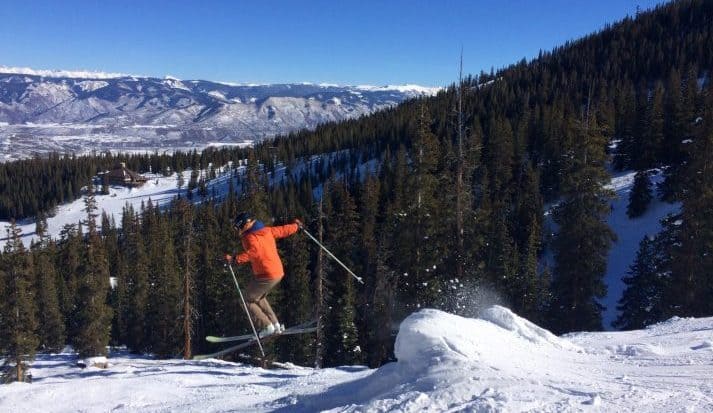 © Photo by Jonathan Fox (www.flickr.com/photos/jfdervin/12081258624/)
Denver Airport to Snowmass transportation takes approx. 4hrs
Vail
Vail is the self-proclaimed favourite ski resorts in North America. While we can't confirm this for sure, one thing we can confirm is it is the biggest ski resort in the US! Vail's got over 5,289 ski-able acres and 7 legendary back bowls spanning 7 miles. Free buses and heated walkways connect its four distinct base areas.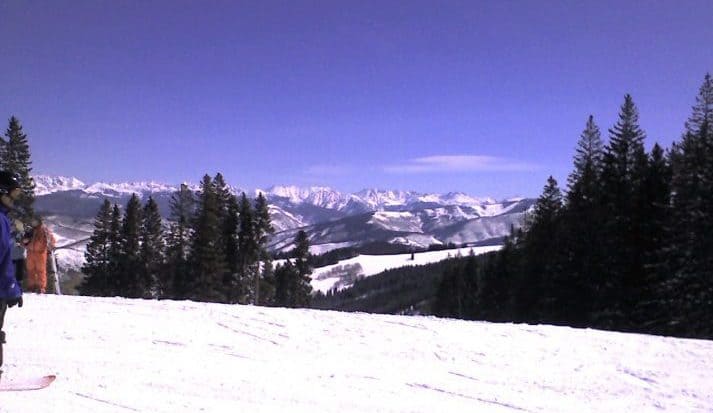 © Photo by Jacob Good (www.flickr.com/photos/whoisjake/2393931826/)
Denver Airport to Vail transportation takes approx. 2hrs
The ski season in Colorado usually runs from November-April each year, so we'll give you a breakdown of the pros and cons of going skiing in each of those months…
November
November isn't the most popular month to go skiing, although many resorts are open towards the middle to the end of November, this will include only a handful of lifts. Having said that, this is sometimes people's preferred option, by going skiing in November you will avoid the crowds and more than likely have the whole slope to yourself. Not to mention, the prices in hotels and for lift tickets are at their cheapest. It must be said though, by deciding to head to Colorado ski resorts in November, you are risking limited snow and skiing.
However, if you're OK with potentially not much snow, then Breckenridge and Keystone open during the second week in November, while Aspen Snowmass, Beaver Creek and Vail usually open the week of Thanksgiving (Thanksgiving is on the fourth Thursday of November for our European readers!)
December
The first half of December is much the same story as the second half of November, skiing is usually hit or miss, but you can find some bargains in an empty ski resort. Snowfall in December does significantly vary from year to year, some years there's a tonne of snow and some years there's virtually none at all.
Of course, the amount of runs and lifts open in resorts does depend on the level of snowfall at that particular time. If there isn't a great deal of snow, then you may find yourself disappointed with limited runs and lifts open.
Towards the end of December is when things get interesting in all the ski resorts. With the festive period taking over much of the world, the ski resorts are no different. In fact, celebrating Christmas and New Year in the ski towns is one of the best experiences you can have, perfect for a family winter holiday!
January
All in all, the best time to go skiing in Colorado is usually in January and February. Snowfall is most reliable during these two months. Apart from the days when kids aren't in school and the weekends, with people usually driving from Denver, the resorts aren't as busy as you might expect. With that in mind, it is worth noting that January is often the coldest month in Colorado, so make sure you pack on the extra layers.
---
---
February
In terms of months alone, February is 9 times out of 10 the best time to go skiing in Colorado. This is when snowfall is at its best and the snow at the peak of the mountains is at its deepest. Plenty of snow = plenty of fresh powder!
President's Day usually brings with it crowds of people, however, apart from that, the rest of the month is usually pretty quiet in comparison. Not only that, by February, the mountains are usually fully open, so you can spend your day skiing over the miles of terrain in the different areas.
March
You might be asking, when do the crowds descend (or ascend) to Colorado for skiing? Well, March is a month which is extremely popular for skiers and snowboarders alike. This is especially true during spring break when the crowds across ski resorts in Colorado are usually at their peak for the year.
In terms of snow depth and weather, March is the best time to go skiing, with warmer temperatures and sunnier days.
If you don't mind the crowds, then visiting at any time during March shouldn't be a problem. If you want to visit Colorado ski resorts in March but want to do your best to avoid the crowds, then we'd recommend visiting the larger ski resorts such as Keystone or Vail or sticking to the start of the month.
April
Mid-April usually brings wetter, less snowy conditions. The wetter conditions lead to many resorts closing for the season. If you want to ski in April, we would 100% recommend visiting Colorado at the start of the month, or you will most likely encounter disappointment.
By the time April comes around, the crowds have disappeared, and you can find yourself some great bargains. Sometimes, but not always, the snowfall can last all the way until May, which means that ski resorts may stay open later than usual.
Round-Up – So When is the best time to Ski in Colorado?
Enjoy Early Season Discounts
If you're willing to take a gamble on potentially poor snowfall, then you can enjoy some early season discounts across the resorts. Before you jump at the chance of any enticing discount offers, make sure you ask questions about conditions and trail openings.
Post-Christmas Hangover
Usually, by the end of the Christmas period, people have spent most of their cash reserves and they're ready for a couple of months of relaxing and spending as little as possible. This means that the crowds in the ski resorts during Jan and Feb aren't as high as you'd expect. There are bargains to be found and powder-skiing to be taken advantage of!
Right in the Thick of it
March really is all-in-all the best time to hit the slopes in Colorado. The snow is still on the slopes and it's not blisteringly cold. There's a reason so many people choose to go skiing in Colorado during March. If you can deal with the increased numbers of people in the resorts, then March should be the time you choose to go skiing!
Don't just take our word for it…
The best time to go skiing in Colorado depends on what type of snow you would like to have. The light fluffy stuff is in January. But this really depends on the base we receive in November and December. The fact of the matter is that the seasons have been shifting to the spring. The snow seems to become later and later. On this note, the best bet for skiing in Colorado is to shoot for March. By then we usually have a wonderful base some springs storms and warmer temperatures.

Chris Anthony – Colorado native & professional skier
Chris Anthony is a Colorado native, University of Colorado graduate and longtime Vail resident. For a good portion of his life, Chris has competed at an international level in both cycling and skiing. He now runs his own youth outreach project that has impacted over 70,000 students to date. Find out more info here.
---
Why bother with the hassle of driving or renting a car when you're heading to the ski resort in Colorado. Relax and take it easy on a transfer with Ski-Lifts. We provide transfers from Eagle & Denver airports to all surrounding ski resorts, including; Aspen, Beaver Creek, Breckenridge, Copper Mountain, Keystone, Loveland, Snowmass & Vail. Use our quote generator to get an instant quote and book online today!
---
---