The 'Mini Shred Movement' Snowboarding with Small Children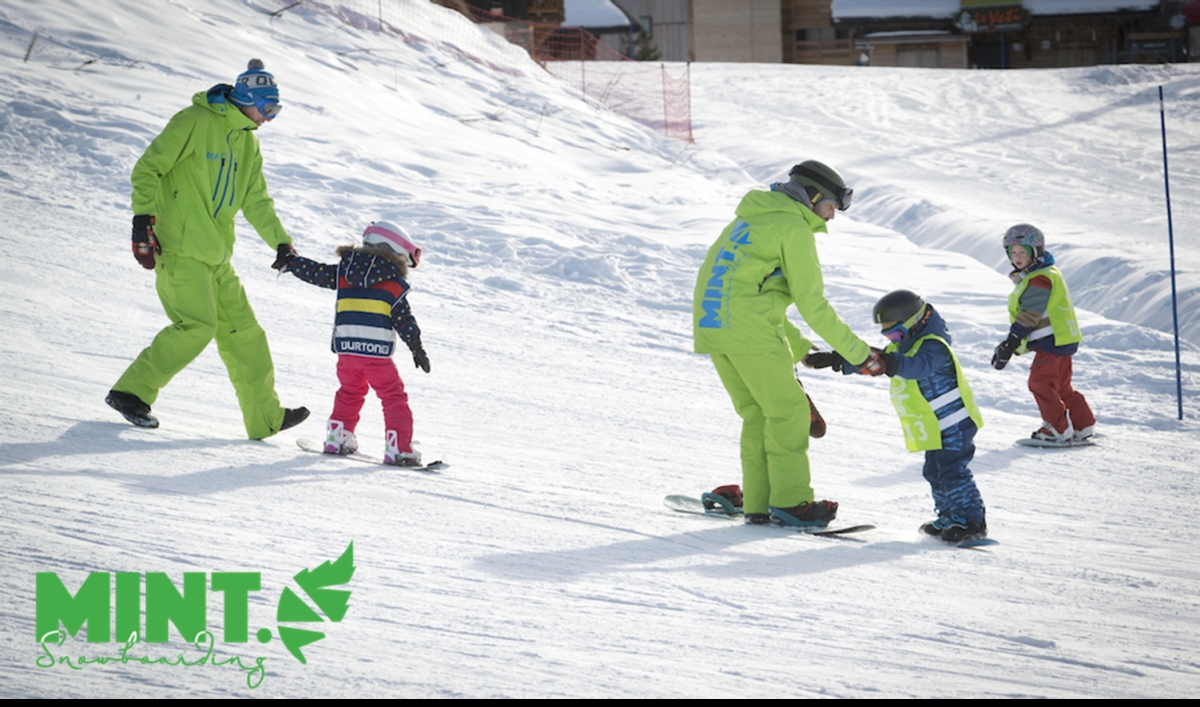 I think we've all had those moments on the mountain- seeing small children flying past us, helmets larger than their bodies, miniature skis and more guts than you can shake a stick at.
Normally they leave us baffled and wondering how it is possible for such small humans to be safely travelling at the speed of light.
Until recent times you wouldn't often see the same instance on a snowboard, we all heard tall tales of snowboarding being bad for the bones, knees and a whole load of other rumours that didn't appear to have a great deal of grounding.
Well it wasn't until Burton begin to offer more child specific gear for the 2/3/4 year olds and lead the pack in terms of large investments in Riglet Parks for introducing kids snowboarding all over the US, that the Mini Shred even became an option for kids this age.
From there it seems the red tape has been well and truly ditched and more and more young children and toddlers have been giving the sport a go.
We love the 'Mini Shred Movement' and wanted to know more! So we had a chat with Tammy Esten, founder of Mint Snowboarding, who has been the prominent force in Europe in raising the profile for the Mini Shred and offering a variety of lessons and camps to get younger children sliding around on the mountain.
Tammy is really passionate about teaching kids, she started teaching these age groups around 7 years ago, but in more recent times it has really taken off, check out this movie made last year-
Last season it went viral and certainly opened the eyes of many parents to the possibility of the mini shred, so lets see what Tammy can tell us about it…
So Tammy how did this whole 'movement' come about?
Well Mint are an official 'Learn to ride centre' with Burton and are also part of the Burton Riglet programme aiming to get kids age 3-6 into snowboarding. So we have an existing relationship with them and we began to introduce lessons and camps for this age group a few years ago. Last year's local camp was a huge success and it's really grown from there.
What ages is the Mini Shred aimed at?
It's aimed at 3-6 year olds, but we've also recently had a 2 and a half year old on a board so it depends on the child really! We've started to call the youngest ages groups the 'Micro Shred'
How different is teaching kids this age compared to older age groups?
Teaching at these ages changes massively between each age group and we have to treat every child differently, so we'll use different games and techniques to teach 3-4 year olds and this will vary for 5-6 year old and so on. With young children, ability is all about strength and what they can physically achieve at their age.
What can the kids expect on their Mini Shred snowboarding lesson?
We are all about making it fun, we'll make up mini tricks to offer variety, sometimes lifting them up to help them feel the sensation of jumps and being on and off the snow.
All of the children get medals after having their session adding an element of achievement and reward to the lessons, and most importantly they can expect fun – our job is to keep it fun, not to teach. (It's the same with adults actually!)
Do they just stay in one area on the mountain?
Although kids may start on the learner pistes, we tend to take them all over the mountains so then can explore.
What sort of equipment is needed to get started?
Well most of the gear is available online and can also be rented in most good snowboard shops. Burton now offer 1 strap bindings for ease of use, and soft Velcro boots. You'll also need a riglet reel, which you attach to the board (most come with this attachment) to pull the board along or for the kids to use like a break. I would recommend them as they really led the way in the technology/gear world for this age group and still are.
Do you recommend renting or buying the gear?
I would highly recommend buying the gear, they may grow out of it but it can be easily resold or passed down. It gives you a chance to let the child get familiar with it, I'd recommend playing in the garden, familiarising the child with what it feels like to be on a board. Burton have even done a collaboration with Marvel, so kids can get a Spiderman board if they want!
What advice or words of wisdom would you offer to parents thinking of starting their kids off young?
Make sure they want to do it, give them the choice, there's nothing to stop them now! It's up to the kids to choose what they want to do as far as I'm concerned so if they want to ski or board it should be there choice.
I would also say not to try and teach them yourself, getting a lesson is key, its not as simple for these ages, you have to start off very basic- its best to leave it to the experts I think.
Do parents need to worry about snow conditions or weather?
No not really, we've had courses where it's rained and snowed all week and the kids are still keen! We teach in all conditions so it really doesn't matter.
What sort of Mini Shred lessons are on offer?
Well we don't have set lessons as such as it so much depends on the age!
We book these on a case by case basis to ensure every child gets the right lesson, we can do shared private lessons,  group lessons and we also offer a local kids camps that normally run for a week.
Can you get lessons for kids this age in the UK?
Well really no one is quite doing it on the same scale that we are here, even in the UK. Some snowdomes do offer some teaching.  Check out Tammys blog here on what indoor slopes are offering.
Hopefully that's given you a taste of what is available for these ages groups on the mountains and should you have any further questions Mint are ready to help, drop them a message here – info@mintsnowboarding.com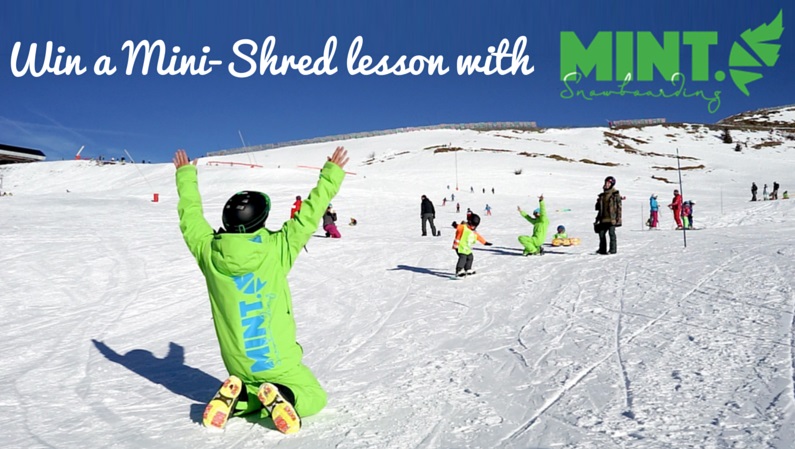 Fancy getting your little one a 1.5 hour private mini shred lesson? Well we're giving one away valid for either this season or next season!
To enter the comp head to our Facebook page and answer the following question!
What age group is the 'Mini Shred' aimed at?
1-2 year olds
3-6 year olds
10-12 year olds
All correct entries are entered into a prize draw! Winner announced on 10th of March 2016
Terms and Conditions
1. The closing date for entries is at 11:00 GMT on the 10th of March 2016. Entries received after this time will not be counted.
2. Entries can only be made through the Ski-Lifts Facebook by entering via the competition page. Entries by mail, email or telephone, or any other means will not be counted.
3. The winner will be chosen at random from correct entries and the winner will be announced on the Ski-Lifts Facebook page and contacted by email.
4. The prize is for one child between the ages of (3-6).
5. The dates the prize are redeemable from are 14th March 2016 – 18th April 2016 and 10th December 2016 – 17thof April 2017. (Snow conditions permitting, subject to availability and excluding peak dates listed below)
6. The winners will receive 1 free place on private mini-shred lesson based in Morzine/Avoraiz and surrounding areas, location to be set by Mint Snowboarding.
7. Excludes the following peak dates 27/03/2016 – 02/04/2016, 18/12/2016 – 08/01/2016, 11/02/2017 – 19/02/2017, 24/03/2017 – 08/04/2017.
8. The prize is non-exchangeable, non-transferable, and is not redeemable for cash or other prizes.
9. In the event that the winner cannot take the prize a new draw will be taken and a new
winner announced.
10. Entrants must be over 18 years of age.
11. By entering the competition you agree to be contacted from time to time via email about
special  offers or promotions from Ski-Lifts Ltd, and the partners for the prize of this
competition.
12. No responsibility is taken for entries that are lost, delayed, misdirected or incomplete or
cannot be delivered or entered for any technical or other reason.
13. Ski-Lifts accepts no responsibility for any damage, loss, liabilities, injury or disappointment incurred or suffered by you as a result of entering the Prize Draw or accepting the prize. Ski-Lifts further disclaims liability for any injury or damage to your or any other person's computer relating to or resulting from participation in or downloading any materials in connection with the competition.
14. Ski-Lifts reserves the right at any time and from time to time to modify or discontinue,
temporarily or permanently, this Prize Draw with or without prior notice due to reasons outside its control (including, without limitation, in the case of anticipated, suspected or actual fraud).
15. Ski-Lifts shall not be liable for any failure to comply with its obligations where the failure is caused by something outside its reasonable control. Such circumstances shall include, but not be limited to, weather conditions, industrial dispute, and inevitable accidents.