Win an Ortovox Powder Rider 16 Rucksack Worth £85 & Get 25% off Ski Club of Great Britain Membership
Enter & refer!! Each referral who enters = 2 more entries for you!
Once you've entered, refer as many friends as possible for even more chance of winning.
It's that time again… Time for our monthly giveaway!
This time, we've teamed up with the Ski Club of Great Britain to offer you some fantastic prizes.
First things first, you have the chance to win an Ortovox Powder Rider 16 Rucksack worth £85. This rucksack can be yours for absolutely free!!
Not only do you have the chance to win this brilliant rucksack worth £85, every entrant will also receive a 25% off discount code for the standard individual or Family Ski Club membership when signing up by direct debit (Code expires 31st Jan 2018)!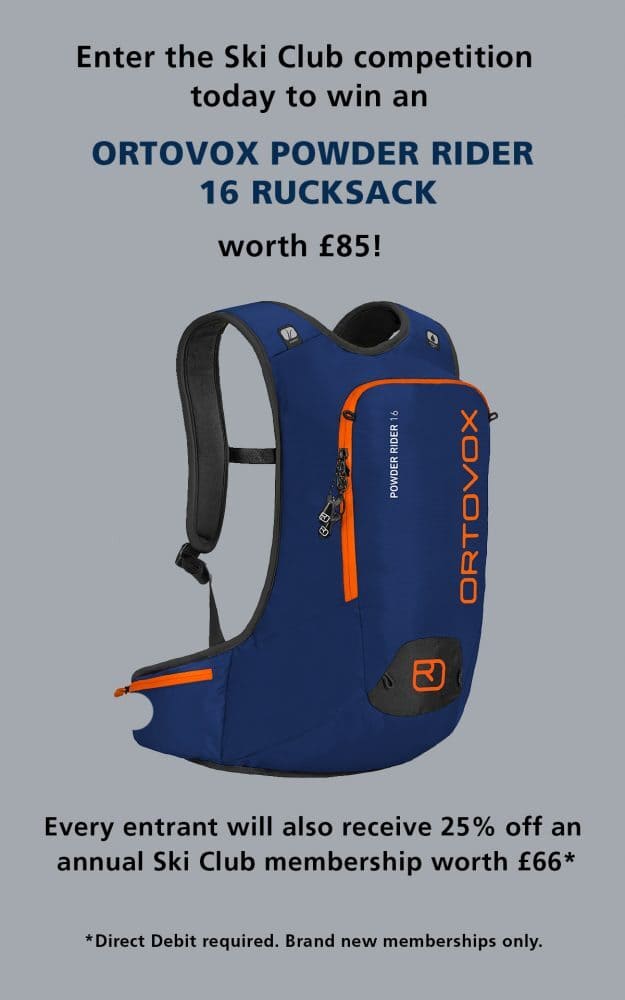 Terms and Conditions
1. The start date for the giveaway is 09:00 GMT on the 10th January 2018. Entries received before this time will not be counted.
1. The closing date for entries is 00:00 GMT on the 31st January 2018. Entries received after this time will not be counted.
2. To enter the competition you will need to enter via Ski-Lifts Facebook contests page and refer people to the competition for additional entries. Entries by mail, email or telephone, or any other means will not be counted.
3. The winner will be chosen at random from all entries and the winner will be contacted by email.
4. The winners will receive 1 Ortovox Powder Rider 16 Rucksack worth £85.
7. Every entrant will receive a 25% off discount code off an annual Ski Club of Great Britain Membership (excludes platinum) worth £66, which expires 31/01/18.
8. The prize is non-exchangeable, non-transferable, and is not redeemable for cash or other prizes.
9. In the event that the winner cannot take the prize a new draw will be taken and a new winner announced.
10. Entrants must be over 18 years of age.
11. By opting in to receive future email communication you agree to be contacted from time to time via email about special offers or promotions from Ski-Lifts Ltd, or the partners for the prize of this competition.
12. No responsibility is taken for entries that are lost, delayed, misdirected or incomplete or cannot be delivered or entered for any technical or other reason.
13. Ski-Lifts accepts no responsibility for any damage, loss, liabilities, injury or disappointment incurred or suffered by you as a result of entering the Prize Draw or accepting the prize. Ski-Lifts further disclaims liability for any injury or damage to your or any other person's computer relating to or resulting from participation in or downloading any materials in connection with the Prize Draw.
14. Ski-Lifts reserves the right at any time and from time to time to modify or discontinue, temporarily or permanently, this Prize Draw with or without prior notice due to reasons outside its control (including, without limitation, in the case of anticipated, suspected or actual fraud).
15. Ski-Lifts shall not be liable for any failure to comply with its obligations where the failure is caused by something outside its reasonable control. Such circumstances shall include, but not be limited to, weather conditions, industrial dispute, and inevitable accidents.
16. By entering our competition you are agreeing to the terms and conditions as set out above.