Scotland Skiing – Where Is Best?
Scotland skiing? Really? Yes, really. A vintage trend that is gaining huge popularity during Coronavirus as UK skiers are not allowed to travel outside of their own borders.
And it's underrated, especially for freeride junkies and skiing families. The Nevis Range, Glencoe, Aviemore, Cairngorms, Glenshee and Lecht 2090 arguably aren't the first peaks and valleys that skiers and snowboarders are used to hearing of, or even thinking about when planning ski holidays for the season.
A vintage ski trend, renewed
But don't speak too soon about Scotland for skiing! Internet search engine queries for "Scotland skiing" have experienced a meteoric rise of 1000x the usual amount of interest over the last two years. With trends moving increasingly towards low-impact and sustainable tourism habits in the UK, particularly for "new" holiday makers aged 20-39 (and with the oldest Millennials now hitting 40s in 2019 and beyond), doing a Scotland skiing season is experiencing a spike in its popularity for outdoorsy folk, skiers and snowboarders.
Granted, we are more likely to dream of The Three Valleys before we even consider the Grampian. Yet Scotland skiing is savouring its own renaissance tale of late: with local funds being dedicated to help capitalise on the Scottish ski trend for years to come, a ski holiday focused around Scotland skiing is destined to become one to actually tick off the list once more.
So where's good for Scotland skiing?
Best Scotland Skiing Locations
The Nevis Range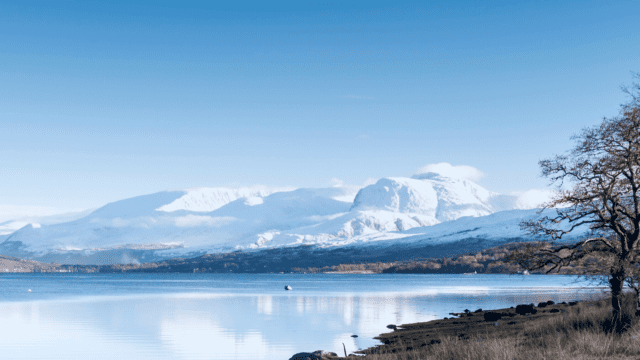 The Nevis Range is iconic, with Ben Nevis being the highest peak and the most famous mountain in the UK. It only stands 1,345 metres above sea level, but the carns at the top of the cairn means that skiing in The Nevis Range puts you just 100 metres below the actual summit itself, which is quite cool. With lots of freeride areas, untouched snow and a 500 metre vertical descent in the Back Corries, the Nebis Range offers a lot of variety for every skier and snowboarder.
This chunky mountain range in the Highlands is also popular with mountain bikers in particular. (We say MTB because The Nevis Range hosts the UCI Downhill World Cup every year, which is why you'll see many mountain bikes sticking out of the gondolas!)
Cairngorms & Aviemore
The biggest ski resort in Scotland, relatively speaking, with 32km of slopes, the Cairngorms has been steadily hosting more and more skiers and snowboarders since the 1960s. The Cairngorms ski transfer from Inverness is just one hour, and usually a little less in late season.
Aviemore is the place to stay if you ski and want to explore the Cairngorms.
As matter-of-factly as Boaty McBoatface, the Cairngorms National Park is of course named after the Cairn Gorm itself – the cairn (peak) standing at the heart of this highland. The Cairngorms park is spectacular throughout the year, and for skiers, they offer the most family-friendly facilities plus a better guarantee of snow. Visit Scotland recommends the whole-family-together classes at the snow school in the Cairngorms. The Ciste has the most snow and least explored runs where you'll find the off-piste crew.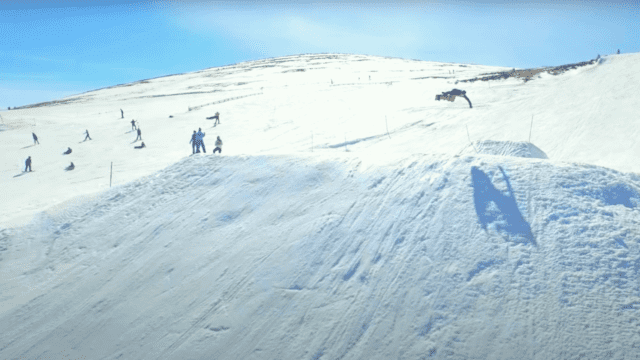 Accommodation-wise, you'll often find the best deals in the Cairngorms and Aviemore if you are skiing in Scotland. They're not ski chalets obviously, but in Scotland you'll generally find yurts, treehouses, cabins; and mostly lodges, guest houses, farmhouses and family-run B&Bs.  Accommodation generally in Scotland often allow pets, but be sure to call up before booking to check – especially in reserve areas where most of the wildlife in the Cairngorms is protected by law, such as the reindeer which you may see on your airport transfer into the mountains.
As well as attracting overseas skiers from Scottish heritage families in the US, Canada and Australia, the Cairngorms are also chosen by skiers in the Nordics looking to experience their own tradition with a twist; along with the ongoing surge of hiking holidays with millennials and Generation Z who venture to the Highlands to learn ice climbing and snowshoeing from base camp.
Glencoe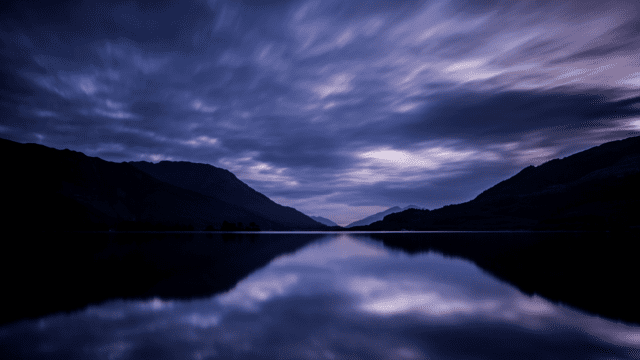 Glencoe is the quieter area, away from the Nevis Range but just as neighbourly to the beautiful areas of Fort William. Although it's a small ski area, it was the first ever Scottish ski resort, and it continues to be noted as being the most chilled out of all the cairns. If you're lucky, you might catch a rare sighting of the world mountaineering legend and inventor that is Hamish McInnes in the wild! In Glencoe you'll only find 6 skilifts, most of which are old school drag lifts/ T-Bars, and a couple of chair lifts. Nevertheless, Glencoe has a great variety of runs, for beginner skiers to advanced skiers – the latter whom might be pleasantly surprised by the diversity of freeride areas and untouched highland.
The runs all have brilliant names – a few examples being Happy Valley, Thrombosis and Old Mugs Valley. Although, if you want to get serious, then the most notorious ski run to try in Glencoe is the Flypaper, a black run that is small, but challenging and perfectly formed for advanced skiers.
Glencoe is an easy reach from Glasgow Airport and all Glasgow Train Stations, with the ski transfer time taking just 90 mins. The short road trip makes for a moody, stunning view from your ski transfer. It's important to note that Glencoe is usually busy during the UK school holidays and over Christmas, and the car parks get full fast. It might be an idea to rise early and book mini-transfers through the week from your resort accommodation to Glencoe, to beat the queues and save on the petrol. If you're looking at Glencoe, booking your accommodation early is also highly advised, with traditional lodges and cabins being the most sought after.
Lecht 2090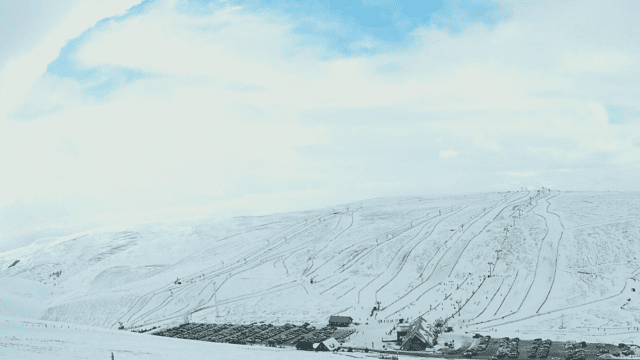 OK, this photo doesn't do justice to the snow. Locally it's just called 'The Lecht', but internationally it's Lecht 2090. Loads of wholesome skiing fun and another one that's great for families and young skiers, as this super cool ski day in the Lecht video attests to.
Glenshee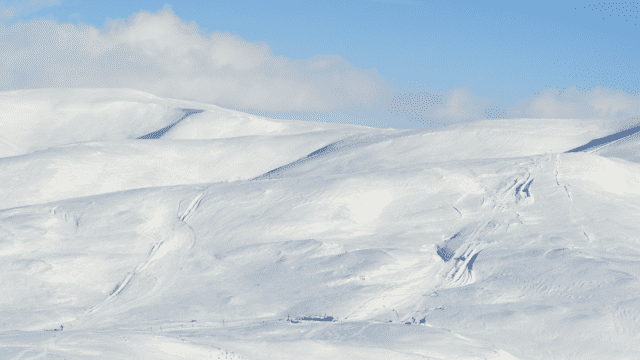 The snow, most years at least, speaks for itself in Glenshee.
After your stint of Scotland skiing
As we well know, the French are adept at coining the perfect term for anything – just as they did with Après-Ski, a time-honoured European winter tradition. Après-Ski habits, however, are believed to have originated in Norway, Sweden and Finland, where the done thing was to guzzle and share your mulled wines in almost medicinal fashion, cook food together, and huddle in furs as a group to stay warm before skiing back home…
Of course it's not really an idea to be hugely comparative in great detail to what we see and know today for Après-Ski culture around the globe! In Scotland, it's totally chilled out; something more in line with its Nordic heritage.
Ideas for a Scottish Après-Ski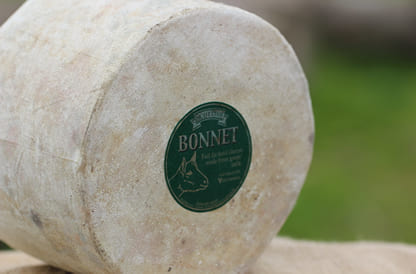 An Après-Ski culture in Scotland is a hospitality opportunity waiting to be both revived and renewed. Scotland après-ski is a very relaxed affair for wining and dining in your lodge, guest house, stone cottage – or just your nearest pub in front of a hearth. Sipping a dram in Fort William is definitely a far cry from hitting the bars and clubs!
Restaurants, lodges, cafes and pubs are usually rammed during lunch and dinner. You might be best off self-catering or waiting to do your own apres-ski as a late dinner if you want to avoid the food queues – unless you like queuing with the bustle of it all, meeting new people.
Either way (as far as we've heard) Scottish Après-Ski does happily involve imbibing yourself with the local nectars and having a dram or three. Which of course you must try in the Cairngorms, being merely a few miles from Speyside!
Food-wise, it doesn't have to be all haggis and deep fried everything. Although, there is nothing wrong with enjoying a one-off deep fried Mars bar with ice cream, other than suffering your GP's and probably your own massive disapproval. In terms of your long, late after-ski dinner, partaking in the local salmon, beef, lobster, grouse and game; and enjoying at least one cullen and one Scottish-only cheese platter, comprising fare from the Highlands and Islands: Bonnet, Fearn Abbey, Kedar smoked, Isle of Mull cheddar, Hebridean blue and so on – similarly grass-fed cheese goodness which is all there to be experienced.
Other Traditions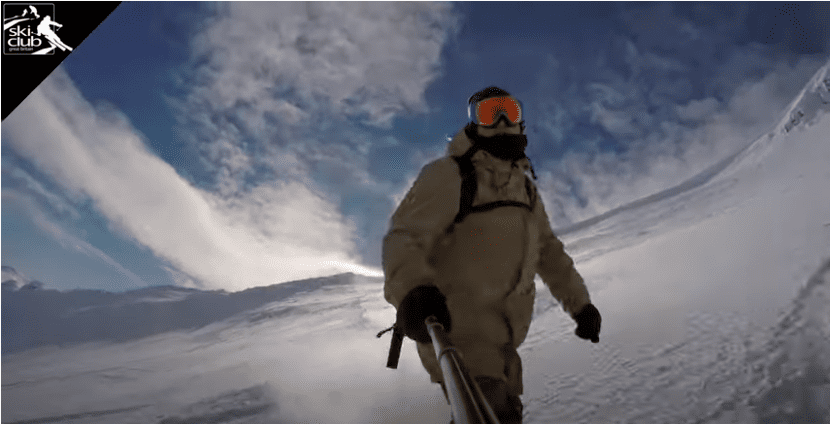 Kilts are optional! Scotland is a quirky pick for skiers of all levels. Advanced skiers might bore of the same gradients after a few days, but they will be kept entertained in areas like Glencoe where the freerides are as plentiful as the bunny slopes. And should you go off-piste, there are more challenging conditions and locations that necessitate some Nordic and mountaineering skills – simply because there are several areas with no skilifts, and getting stuck in the middle of an unmarked run here is as dangerous as it would be anywhere else in the world.
Get in the mood for Scotland skiing
There are some fun homebrew videos on YouTube from UK, US and Canadian skiers enjoying Scottish skiing. This primer Scotland skiing video series from Ski Club is stunning, and we're sure you'll be just as surprised as they were at how fun skiing in Scotland is.
With a bit of luck, an extra gust of arctic wind in April and May will see the snow last longer for Scotland skiing again this year, too.
Why book your airport transfer with us?

Flexible Booking
100% free cancellation
7 days before you travel. Plus our Covid Guarantee.


24/7 support
In case you're delayed or need our help


No hidden fees
Skis, child seats, luggage and amendments are all included.


Loyalty Points
Earn Money off your next holiday transfer (ski, golf, cruise & more)


Global Coverage
Over 200+ ski resort destinations


Award Winners
Multiple World Ski Award Winners. 'World Best Ski Transfer Operator'.
Airport transfer types to suit all budgets