Goggles and buff – Is skiing the safest holiday to take during the pandemic?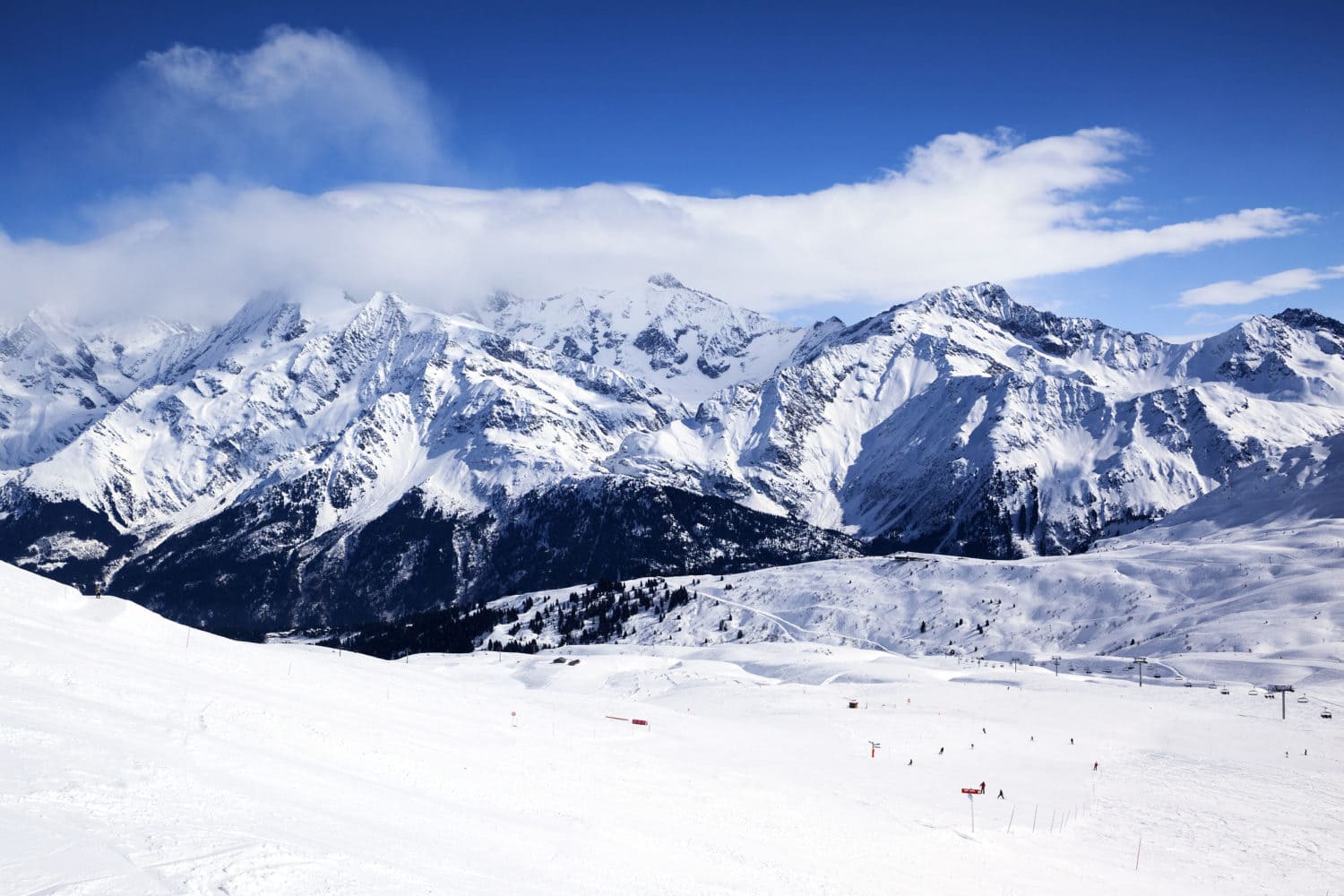 Is skiing safe during the Coronavirus? In many parts of the world, particularly in the Alps in Europe, extra precautions and measures are being taken to ensure that those looking to book skiing holidays are not being subject to careless exposure. France Montagnes is one excellent example of how various cleaning measures and extra facilities – which have been in place since the summer – including hand gel and masks, are helping to support the infection safety of those who travel.
In addition, our fantastic Ski Lifts network is helping to support hygiene measures during your transfer, which match those that are in place in various countries. For example, our transfer vehicle safety measures – again, updated in the summer, is complimentary to the existing international travel measures that are in place at airports, train stations and even on board ships.
Can ski gear help protect against the Coronavirus?
It would be foolish to say that it does! Although saying that, let's consider how things don't feel so hugely different: the ski gear, ski sets and equipment that we use to keep us safe while we are skiing may well also be helpful to protect us while we are out and about in the ski resort, as long as we're not allowing this to give us a false sense of security.
There are various ways we can find some forms of PPE as analogous to our googles and buff. Goggles indeed are already a form of personal protective equipment; the only difference being that these are designed to protect us and keep our eyes and the surrounding skin safe, due to weather and light conditions – as opposed to being personal wearable controls for infection safety.
Yet, it stands to reason that we might treat our ski gear and ski extras with a little bit of extra care to ensure we're not contributing to further mini-outbreaks that can put our own, or other's loved ones at risk.
What extra tips can skiers and snowboarders consider to stay safe while skiing this season?
We have put some general ideas together as extra precautions to take to help minimise your risk further, in addition to working with the sanctioned and regulatory measures required by the various ski areas across the world such as French ski resorts, Italian resorts, Austrian resorts, Swiss, resorts in Liechtenstein, German ski resorts and others.
The below are some pieces of advice we've picked up from skiers who are already planning their half term ski holidays, and ensuring they don't miss the ski while the borders remain relatively open. We'll be sharing this online across our socials, so be sure to keep an eye out for it!
Our 'Clean Ski' Protocol – ideas to use while skiing this year, in addition to the measures deemed mandatory by your local health authority: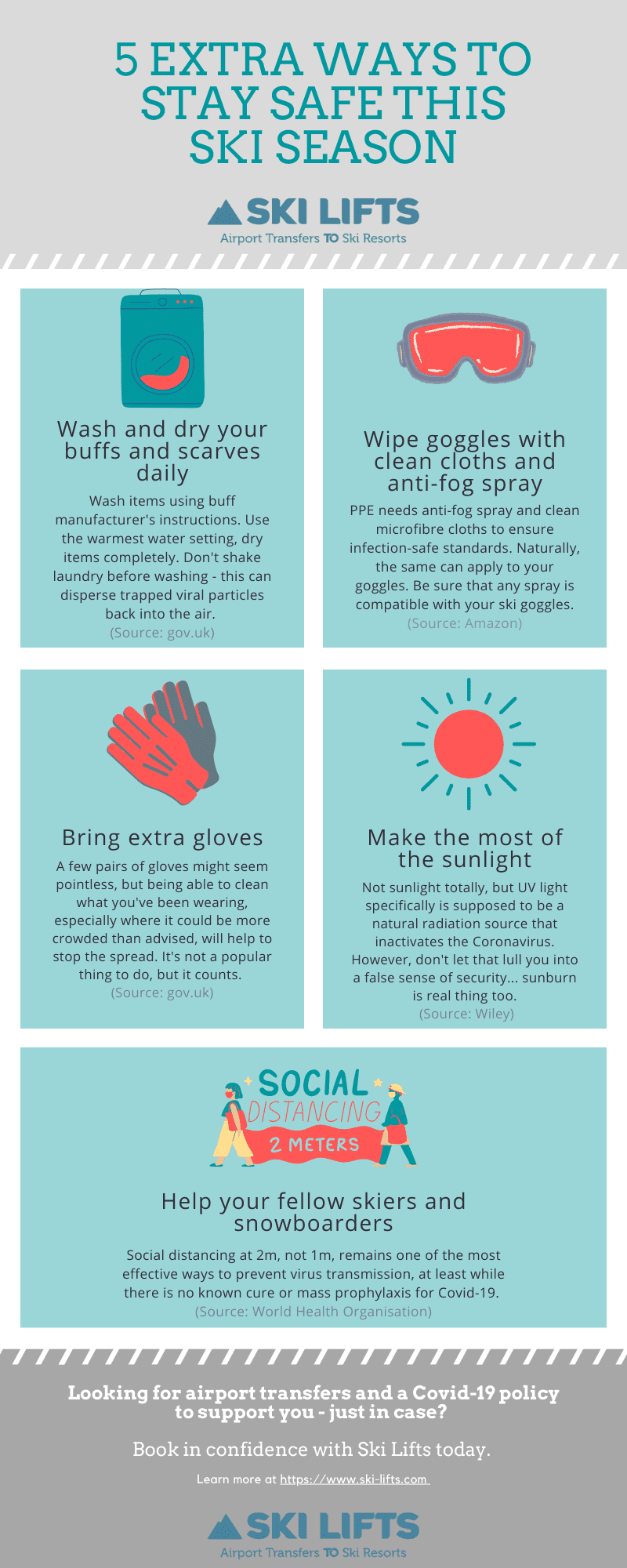 (Please see the same tips as in the infographic above):
Wash and dry your buffs and scarves daily
Wash items using buff manufacturer's instructions. Use the warmest water setting, dry items completely. Don't shake laundry before washing – this can disperse trapped viral particles back into the air. (Source: gov.uk)
Wipe goggles with clean cloths and anti-fog spray
PPE needs anti-fog spray and clean microfibre cloths to ensure infection-safe standards. Naturally, the same can apply to your goggles. Be sure that any spray is compatible with your ski goggles. (Source: Amazon)
Bring extra gloves
A few pairs of gloves might seem pointless, but being able to clean what you've been wearing, especially where it could be more crowded than advised, will help to stop the spread. It's not a popular thing to do, but it counts. (Source: gov.uk)
Make the most of the sunlight
Not sunlight totally, but UV light specifically is supposed to be a natural radiation source that inactivates the Coronavirus. However, don't let that lull you into a false sense of security… sunburn is real thing too.
Help your fellow skiers and snowboarders
Social distancing at 2m, not 1m… remains one of the most effective ways to prevent virus transmission, at least while there is no known cure or mass prophylaxis for Covid-19.
(Source: World Health Organisation)
Do I really need to wear a mask under my buff, coat or scarves?
Under the advice of the World Health Organisation and various other international health and regulatory bodies, the use of masks has been made either a legal or regulatory requirement – so wearing a mask is still a good idea in order to comply and respect these countries' measures. It is usually advised that masks are disposed of safely after eating or drinking and replaced.
The  NHS Oxford University Hospitals Trust website has an excellent guide on how to do this most effectively with masks:
"How do I wear a face mask correctly?

Wash or sanitise your hands before putting it on

Ensure the mask goes up to the bridge of your nose and all the way down under your chin

Tighten the loops or ties so it's snug around your face

Avoid touching your face, or the parts of the mask that cover your nose and mouth

Wash or sanitise your hands before taking it off

Use the ear loops to take the mask off and wash or sanitise your hands afterwards

How long do I have to wear each mask for before changing to a new one?

There is no set time, nor recommended number of masks you should use each day. It all depends on what you are doing. However, if your mask gets dirty, wet or damaged, or if you touch the inside of it, then you should change to a new one (following the steps above). When you take it off to eat or drink, you should dispose of the old mask, wash or sanitise your hands, and replace it with a new one once you have finished eating."
Wearing a mask will be inherent given flight and train station rules – be sure to bring plenty with you so that you can change them when you need. Undoubtedly wearing masks will have been an important component of your travel already; particularly in airports and on public transport, where they are mandatory across most of Europe.
The France Montagnes body has hygiene measures for skiers, as well as various resorts across the Alps, are specifying that masks need to be worn on lifts and in shared spaces – particularly for bars, cafes and restaurants, even if eating outside.
Whatever you choose to do this season – ensure you are keeping yourself and your group safe! Now is a great time to stock up on those ski extras – take a look at some of our partners and their offers which are exclusive to Ski-Lifts customers.

Why book your airport transfer with us?

Flexible Booking
100% free cancellation
7 days before you travel. Plus our Covid Guarantee.


24/7 support
In case you're delayed or need our help


No hidden fees
Skis, child seats, luggage and amendments are all included.


Loyalty Points
Earn Money off your next holiday transfer (ski, golf, cruise & more)


Global Coverage
Over 200+ ski resort destinations


Award Winners
Multiple World Ski Award Winners. 'World Best Ski Transfer Operator'.
Airport transfer types to suit all budgets