Climbing in the Alps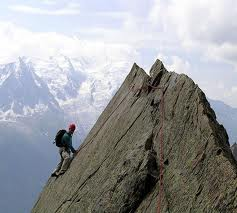 Climbing was probably the first alpine sport to take off and as the years have gone by, people have challenged themselves to undertake ever more difficult ascents. There are many iconic peaks throughout Europe that draw people in each year to make attempts on them.
Probably the most famous of them all is Mont Blanc, Western Europe's highest peak, with many people basing themselves in the town of
Chamonix
, which provides excellent access to the phenomenal amount of climbs on offer.
Other names that many people will know include the Eiger,
Matterhorn
, Jungfrau and Weisshorn.
The climbs that are available aren't just for experts or the fearless, there are climbs to suit all ability levels. Local guides are on hand to help you find the most suitable and to help you avoid getting into trouble.
Climbing in the Alps isn't limited to the summer, there are plenty of options in the winter, especially if ice climbing or ski mountaineering is your thing.
There are many tours that can be undertaken, giving the option to head off into the wilderness for days, conquering a number of peaks and staying out in mountain huts.
Although not a new invention by any means, there has been a growth in popularity in Via Feratta over the last few years. This sport originated in the Italian Dolomites but has now spread throughout the world. The fixed route courses provide a great introduction to climbing through the mountains, enabling relatively inexperienced climbers reach places that would not otherwise be possible for them. Local guides can provide tuition and the equipment to help you give this a go.