Things to expect on a mountain bike holiday in Morzine
It's been an epic summer here in Morzine, the weather has been incredible, we've got more bikers than ever exploring our terrain and you may be wondering what all the fuss was about, so we've teamed up with our friends at Riders Refuge to tell you all about what to expect on a mountain biking holiday with them and some super handy tips if it's your first venture…!
So if you have never been on a mountain bike holiday before, here's a little guide to what to expect on a catered chalet holiday with Riders Refuge.
Mountain Biking in Morzine
Morzine is the perfect place to come for a mountain bike holiday it is part of a huge area known as the Portes Du Soliel and it is linked by 26 chairlifts which will take you and your bike up into the mountains.
There is every type of mountain biking available right here with plenty of trails which are graded according to the level of difficulty, green being the easiest to the hardest which is graded black. Make sure you pick up a free map so you can plan your route. Whatever type of mountain biking you prefer be it downhill, cross country, trail riding, single track, gravity enduro….. it's all available to you on Morzine's doorstep.
Morzine is only a short drive from Geneva Airport and most of our guests travel here by plane, we include transfers with all our catered holidays and we will organise this for you so we ensure you get to resort as quick as possible, it only takes about 70 minutes. Some of our guests prefer to drive and we have parking at all our chalets. So if your thing is repeated adrenaline runs down the Pleney mainline or more of a big day out in the mountains riding some amazing single track it's all here in the Portes Du Soleil for you to take advantage of.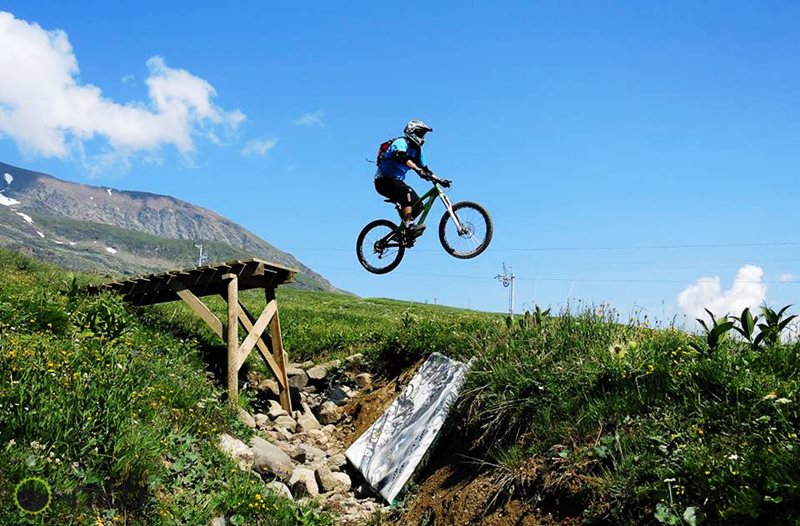 Getting your bike to the Alps
Many of our guests bring their own bike, you can include your bike when booking your flight some airlines charge extra for this for example easy jet charge is £35 each way. You need to make sure your bike is packed in either a bike box or bike bag and make sure you pack it well, pipe insulation is perfect for fitting round you frame, forks etc. Make sure you  protect your rear mech and forks well so that they are not damaged in transit, most of our guests arrive with their bikes as they packed it but occasionally we have seen some bike bags or boxes damaged, the most common issue is a bent rear mech. Once you arrive at your accommodation you will be met by your chalet host, shown to your room and more importantly the bike store and your holiday has properly begun.  All our chalets have secure bike stores with tools and workstands so you can prep and maintain your bike at the chalet, we also have washdown areas for you to clean your bike after a day on the trails. Don't worry if you prefer to hire a bike there are many bike shops in Morzine where you can rent bikes and many different brands and specs of bike are available. We are happy to assist you with this.
Our Package
Our chalets offer breakfast which will fuel you for a day's riding,  afternoon tea is there for your return which consists of a freshly baked cake plus fresh bread with a selection of jam, there is always tea, coffee, cordials, cookies and fresh fruit for your help yourself to when you choose. Dinner is three courses of delicious home cooked food and we do a barbeque one night a week, let us know at the time of booking about dietary requirements and we can provide for that too. Our chalet hosts have a Wednesday off which allows you to sample one of Morzines restaurants of which there is many to choose from and we are happy to make recommendations and bookings for you.
Typical Morzine Summer Weather for Mountain Biking?
Although this summer we have had heat wave here in Morzine with temperatures reaching 40°C and lots of dry dusty trails the weather in the alps can be very changeable. The temperature difference between the valley floor and high up in the mountains can sometimes be as much as 10°C. We recommend you bring a small back pack to take with you on your ride.
Useful items in your back pack
Wind/water proof Jacket
Spare inner tube
Multi tool
pump
Spare Mech hanger
small 1st aid kit – antiseptic wipes, plasters, asprin, bandage
Sunscreen (even on a cloudy day)
Museli/chocolate bar
Depending on the weather conditions you may need other items to keep you warm and dry. The sun is pretty strong at altitude and it can be deceiving if there is a cool breeze so sunscreen is important.
What to wear
You will need a helmet for all riding in the alps and if you are doing more downhill then a full face helmet is recommended plus elbow and knee pads.  Many people choose to wear neck braces and full body amour but there are a range of different trails here and you should always ride within your capabilities and wear what protection you are comfortable with.
Riding tops and shorts are personal preference but we would recommend a technical base layer to keep you comfortable and so you can enjoy your day and not be too cold or too hot when going up the chair lifts, doing an extra bit of climbing or nailing that descent.  A good pair of riding shoes will also be beneficial when riding in the alps. Even on cross country rides you can come across some downhill so it is important that you plan your route and take what protection you think is appropriate for your ride.
Useful Checklist
Mountain bike with at least 100m of front suspension. We recommend a full suspension mountain bike.
Good downhill tyres of at least 2.35 if this fits your frame. Maxis Highroller 2 are a good choice for coming to Morzine
Spare inner tubes, downhill tubes are best.
Spare brake pads. At least one full set.
A backpack. One with a water reservoir is useful.
Your usual riding spares as mentioned above to go in your backpack.
Waterproof jacket.
Usual summer riding clothes
Helmet and goggles
Riding Gloves
Bike Sunglasses
Swimwear
Body armour.  We recommend at least elbow and knee pads for riding in the Portes Du Soleil.
We hope that has whet your appetite for a mountain biking trip next summer.
Why book your airport transfer with us?

Flexible Booking
100% free cancellation
7 days before you travel. Plus our Covid Guarantee.


24/7 support
In case you're delayed or need our help


No hidden fees
Skis, child seats, luggage and amendments are all included.


Loyalty Points
Earn Money off your next holiday transfer (ski, golf, cruise & more)


Global Coverage
Over 200+ ski resort destinations


Award Winners
Multiple World Ski Award Winners. 'World Best Ski Transfer Operator'.
Airport transfer types to suit all budgets