The Best Ski Resorts in North America
Skiing in Canada
Whistler
This Canadian ski resort gives you access to over 200 individual pistes and 37 ski lifts. Whistler firmly places its hat in the debate of the which resort is the 'World's Greatest Ski Resorts', competing with many of its neighbours in the US and of course, Europe's elite.
Whistler can keep you on your toes whatever your level of skier you are, there are plenty of runs here for everyone.
Beginners have access to easy runs and learning areas which sit above the village.
Over half of the terrain is at intermediate-level. If you're an intermediate skier, you have the most choice out of the bunch. If it is your cup of tea, you can go on amazing heli-skiing excursions, where you'll be rising up to the 2500-3000m high slopes where you are able to enjoy the most breathtaking views in the whole area.
Whistler is a fantastic resort. You have a huge variety of challenges and stunning views.
Ski-Lifts offer shuttles from Vancouver Airport to Whistler.

© Photo by Kris Arnold (www.flickr.com/photos/wka/3346018264/) 
Skiing in the USA
Aspen
With access to 337 individual pistes and 43 ski lifts, Aspen should not be overlooked when you decide to go skiing in the USA. It is extremely hard to pinpoint just one ski resort as being the best in the world and I'm sure everyone would have their own opinion on which is the best. However, one thing that is undisputed is that Aspen is certainly amongst those top ski resorts across the world, maybe even within the top 5.
Altogether, Aspen has four mountains. These four mountains combined give you an offering of very diverse skiing which is suitable for all levels of skier/snowboarder. One downside of Aspen is that the mountains are not linked by ski lifts. That being said, there is a shuttle service between these mountains, which is available from 8am-5pm.
If you're a beginner, your best bet is to start your day on Buttermilk, which is an area with wide, quiet and gentle slopes… Perfect! Buttermilk stretches for a few kilometres, heading away from the town. For the intermediate and expert skiers, get yourself over to Aspen Mountain, which stands 5km away from the town. Aspen has something for everyone, from beginner runs, all the way to the demanding and exciting black runs and off-piste runs which are a challenge for any level of skier.
Ski-Lifts offer shuttles from Denver Airport and Eagle County Airport to Aspen.
Beaver Creek
This family-focused resort is definitely one which you should look to tick off your ski bucket list! Whatever level of skier you are, you will find something to suit your ability here at Beaver Creek. It is also one of the highest ski areas around, so natural snow is almost guaranteed throughout the season. This top-of-the-range resort also invests in cloud-seeding technology. Cloud-seeding is designed to make it snow more than it would naturally.
Strawberry Park, with its own gondola lift, is the perfect place for beginners to start their journey into skiing. Further up the mountain, you will also find a number of gentle beginner slopes. Intermediate skiers have plenty to occupy themselves with at Beaver Creek. There are over 100 intermediate runs for you to fill your boots with, some are up to 4.5km long. Not forgetting all you expert skiers, for a real challenge, head to the black diamond and double-black diamond runs, including the famous World Cup Birds of Prey downhill course. You may, or may not be happy to know that some of the runs here in Beaver Creek are so extreme, they have their own special rating – 'EX'. If you're looking for these runs, get yourself over to Stone Creek Chutes, Royal Elk Grade and Talon's Challenge.
Ski-Lifts offer shuttles from Denver Airport and Eagle County Airport to Beaver Creek.

© Photo by Jeff Gunn (www.flickr.com/photos/jeffgunn/6576477881/) 
Copper Mountain
Staying with the theme of all the best ski resorts in North America, Copper Mountain provides runs for all levels of ability. The 142 runs are neatly-divided over 1800 ha. Runs which are located in the west, start out easy, however, once you head further east, you will notice they gradually become steeper and much more challenging. If you're looking for some wide-open green runs, then head over to Union Creek chair in West Village. In Central Village, you will find a number of green and blue runs. While East Village is set up for more experienced skiers, with challenging 600+ metre runs, including; blue runs, a black diamond and a double diamond, which are all situated below the mountains 3600m peak. Here's a good fact for you, the US ski team trains for its speed events on the runs near East Village.
Other than skiing, Copper Mountain offers snowboarding, zip-lining, tubing, show-shoeing, ice-skating, and much more.
Ski-Lifts offer shuttles from Denver Airport to Copper Moutain.
Vail
Vail is the self-proclaimed favourite ski resort in North America and you know what, we somewhat agree! One thing that we can definitely confirm, is that Vail is the USA's biggest ski resort. With over 5,289 of ski-able acres and 7 infamous back bowls which span over 7 miles, you certainly won't find yourself skiing the same run twice during your time in Vail. Free buses and heated walkways connect all the four base areas in Vail.
Vail is huge!! You won't find skiing on a scale like this anywhere else.
There's no doubt that experts will gravitate toward the legendary Back Bowls – which feature plenty of black runs and off-piste routes. It's worth noting that intermediates can safely handle some runs in the Back Bowls.
Ski-Lifts offer shuttles from Denver Airport and Eagle County Airport to Vail.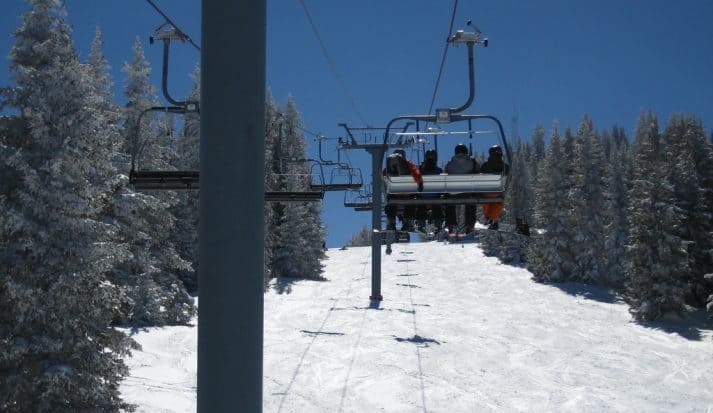 © Photo by Rudi Riet (www.flickr.com/photos/rudiriet/2419178572/) 
Why book your airport transfer with us?

Flexible Booking
100% free cancellation
7 days before you travel. Plus our Covid Guarantee.


24/7 support
In case you're delayed or need our help


No hidden fees
Skis, child seats, luggage and amendments are all included.


Loyalty Points
Earn Money off your next holiday transfer (ski, golf, cruise & more)


Global Coverage
Over 200+ ski resort destinations


Award Winners
Multiple World Ski Award Winners. 'World Best Ski Transfer Operator'.
Airport transfer types to suit all budgets