Lourdes Airport Transfers

Lourdes Airport transfers to surrounding ski resorts, including; Andorra La Vella, Bareges, Borce, Cauterets, Gourette, Hautacam and many other destinations. Book your Lourdes Airport transfer now with Ski-Lifts. It really could not be more simple with our quote generator! Get your free, instant quote now.
As an award-winning ski transfer specialist, Ski-Lifts are the experts in offering local, trusted Lourdes Airport transfers to the Pyrenees, as well as to a fantastic variety ski resorts in Andorra, France and Spain!
Get to your ski resort in the Pyrenees with our airport transfers.
Travel from Lourdes Airport to Andorra La Vella, Bareges, Borce, Cauterets, Gourette, Hautacam & many more, with Ski-Lifts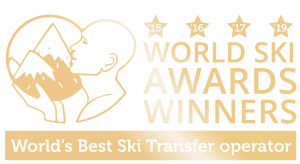 Lourdes Airport Transfers to Ski Resorts
Which ski resorts are closest to Lourdes Airport?
Lourdes Airport to Hautacam transfer time is approx. 45 mins
Lourdes Airport to Cauterets transfer time is approx. 45 mins
Lourdes Airport to Bareges transfer time is approx. 1 hour
Lourdes Airport to St Lary Soulan transfer time is approx. 1 hour
What ski resorts are also close to Lourdes?
Lourdes Airport to Luchon transfer time is approx. 1hr15mins
Lourdes Airport to Gourette transfer time is approx. 1hr30mins
Lourdes Airport to Borce transfer time is approx. 2hrs
Lourdes Airport to Andorra La Vella transfer time is approx. 3hrs45mins
Flawless door-to-door transfers.
✔ Relax knowing that someone will be waiting at Lourdes airport
✔ 24/7 Ski-Lifts assist while you're travelling
✔ Local, trusted, knowledgeable drivers
✔ Get to your destination safely and comfortably
Your Lourdes Airport Transfer
An airport ski transfer from Tarbes–Lourdes–Pyrénées Airport offers:
✔ Cheaper and more efficient alternative to the taxis.
✔ Peace of mind that your driver and vehicle is already organized and waiting for you.
✔ Reassurance and convenience of door-to-door travel through the mountains.
All Lourdes airport transfers from Lourdes Airport (Aéroport Tarbes Lourdes Pyrénées) can be booked online with us now. Just use the quote generator above, and you'll get instant confirmation of your the booking. Now sit back! Your driver, or one of our representative, will be there waiting and ready to take you to your destination.
From Lourdes Airport to Ski Resort
The location of Lourdes is totally ideal for the Pyrenees ski resorts in Andorra, France and Spain, where snow seekers make a different type of pilgramage.
Lourdes Airport transfers vary in duration:
– A transfer from Lourdes Airport to Bareges, Cauterets, Hautacam and St Lary Soulan takes approximately 1 hour.
– Transfers to Borce, Gourette and Luchon take around 1-2 hours.
Ski-Lifts also offer Lourdes Airport discreet private transfers to resorts throughout France, Spain and Andorra.
Return transfer
For your return transfer to Lourdes Airport from your ski resort, we send you a text message the day before you are due to depart confirming your exact pickup time. On the departure day, we come to collect you and aim to get you to the airport around 2 hours before your flight departs.
Arriving as as skier to Lourdes Airport
Arrivals
Ideally you will have checked your baggage in with us at Ski Lifts before your transfers, as we offer free luggage transfer including skis, snowboards, child seats and bulky gear. Upon arrival at Lourdes Airport, you should collect your bags and proceed through customs into the arrivals hall. Once into the arrivals hall your driver or our team representatives will meet you. 
Why Lourdes Airport for skiing?
Lourdes is almost a 'best kept secret' among skiers and snowboarders. Although it is an international airport, it receives fewer queues than others. It is popular for those flying for the ski season from London Stanstead, Rome, Malta, Paris and Lisbon.
Indeed, there are holidaymakers who have the best of both worlds, opting to both ski in the Pyrenees, and then hop back to Lisbon for some golf!
For the seasonaire, Lourdes is a quirkier choice to transfer from, but ultimately it is a rewarding one for experiencing the Iberian peninsula to its full potential – with the least amount of stress. 

Secure bookings
We're PayPal Enterprise powered & 100% PCI compliant.

Instant transfer confirmation
Ski Lifts offers the best ski transfer value and price, instantly.

Cheaper than alternatives
Our drivers are specialists - and cheaper than taxis.

Last minute ski transfer?
Yes! Ski-Lifts accept all bookings up to 48 hours prior

Free ski, snowboard luggage
Also yes, we do carry your child seats, skis, snowboards for FREE!
Airport transfer

types to suit all
budgets

Shared
Shared transfer vehicle with other passengers of similar flights & destinations.
_____
One of the most cost effective, efficient ways of getting to the ski resort.

Scheduled
Similar to shared - transfers run on timetables, so you must book a transfer that fits your flight times.
_____
Generally not door-to-door, but cheaper.

Private
All yours. Book a driver and transfer vehicle for your sole use.
_____
No sharing with others, no waiting at the airport and a direct door-to-door service, with no additional stops en route.

Private

Coach
Similar to a private transfers - but with a larger vehicle.
_____
Perfect for larger ski and snow groups wanting to travel together.

Exec & Limousine
Enjoy top-of-the-range Mercedes minivans or an S-Class Mercedes limousine.
_____
Like a private transfer vehicle, but with the additional benefit of travelling in pure style. Transfer information and more