The Best Places to Cycle in the French Alps
As temperatures increase and the snow melts, thrill seekers look for other ways to get their adrenaline rush in the mountains. Thanks to the millions of people across the globe watch the Tour de France pass through the region each year, the Alps has established itself as one of the greatest cycling locations in the world. We've shared some of the best places to cycle in the Alps to help you choose your cycling holiday destination.
When to Cycle in the Alps
Alps Cycling Season
Loved by skiers and cyclists alike, the Alps is a place with two distinct seasons. For half the year, during the winter months, most of the best climbs are covered with snow and ice and the low temperatures don't make for a pleasant trip.
The cycling season in the Alps generally runs from mid-April to mid-October, although areas above 1,500m, such as the Col du Galibier, are usually open from Mid-May/June to September.

© Photo by Graham of the Wheels (www.flickr.com/photos/gray_um/29459013598/)
Weather
The Alps is a mountainous region and subject to variable weather, with temperature variations of up to 10C from one day to the next.
Generally, July and August are the driest months, with rainfall occurring in short, heavy afternoon storms.
Whilst June to August offer the highest temperatures, September is one of the best months for cycling in the Alps, with temperatures dropping slightly.
It is also worth noting that weather conditions at the foot of a climb may not be the same at the summit and conditions can rapidly change at any time of year. As a rule, temperatures fall by 6.5C per 1000m increase in altitude, although this difference can be much more dramatic.
Traffic
The Alps are a popular holiday destination, and with this popularity comes the associated traffic.
Traffic is at its peak from mid-July to the end of August, with the roads up to the highest or most famous passes the busiest.
Passing through the region in July each year, the Tour de France brings significant crowds. If you want to avoid this, visit a couple of weeks before or after the race.
Cycling Destinations in the Alps
The dramatic landscape of the Alps might make a spectacular cycling location, but it does cause some difficulty in getting from A to B.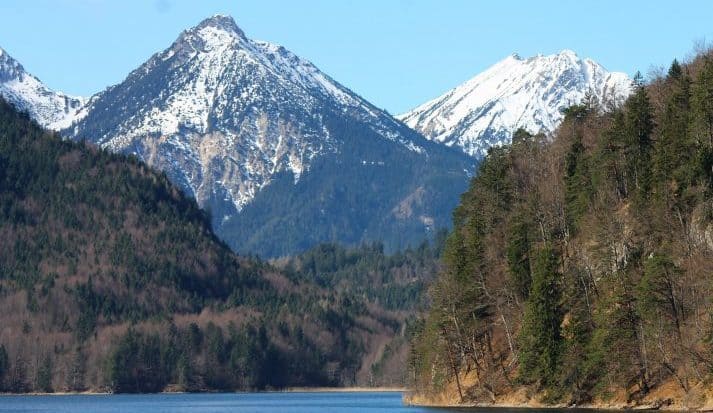 © Photo by Sue Reynolds (www.flickr.com/photos/suereynolds/33190281943/)
We recommend these destinations as a base within each reach of the best mountain passes:
Annecy
A beautiful town next to a lake, Annecy is the perfect destination for those looking to explore lower or quieter climbs.
Climbs nearby: La Semnoz and Col de la Colombiere.
Getting there: Transfers from Geneva Airport to Annecy take approximately 45 minutes.
Bourg d'Oisans
A small town in the Romanche Valley, Bourg d'Oisans sits at the foot of Alpe d'Huez and is a popular option for cyclists visiting the area.
Climbs nearby: Alpe d'Huez, Col du Glandon, Col de Sarenne, Col du Galibier and Les Duex Alpes.
Getting there: Transfers from Geneva Airport to Bourg D'Oissans take approximately 2 hours 20 minutes.
Morzine
Situated at the foot of the Col du Joux Plane, Morzine is perfect for reaching iconic Tour de France climbs as well as popular mountain biking routes in the Portes du Soleil area.
Climbs nearby: Col du Joux, Col De Ramaz, Cole de la Joux Verte, Avoriaz and Col de la Ramaz.
Getting there: Transfers from Geneva Airport to Morzine take approximately 1 hour 30 minutes.
Saint-Michel-de-Maurienne
Close to the capital of uphill cycling, Saint-Jean-de-Maurienne, Saint Michel-de-Maurienne is the perfect base for outdoor enthusiasts.
Climbs nearby: Croix de Fer, Galibier, Glandon, Lacets de Montvernier and Madeleine.
Getting there: Transfers from Geneva Airport to Saint-Michel-de-Maurienne take approximately 1 hour 55 minutes.
The Best Climbs in the Alps
Alpe d'Huez
With views of over a fifth of France, Alpe d'Huez is one of the most iconic climbs in the French Alps. Featuring 21 hairpins and the famous 'Dutch Corner', this climb has featured in the Tour de France 28 times since 1952.
Length: 13.2km
Average gradient: 8.1%
Elevation gain: 1,071m
Lacets de Montvernier
Despite only being 277m high, Lacets de Montvernier is by no means an easy climb. Featuring 18 hairpin bends, this pass was made famous by the 2015 Tour de France when it captivated the world.
Length: 3.4km
Average gradient: 8.5%
Elevation gain: 277m
Col du Galibier
Scalable both the north and the south, Col du Galibier is ranked as hors catégorie (beyond category) by the Tour de France, making this not an option for the faint-hearted.
Length: 18.1km (from Valloire)
Average gradient: 6.9%
Elevation gain: 1,245m
Col de la Madeline
There are two ways to approach Madeline, each providing its own unique challenges. One of the toughest climbs, cyclists are rewarded with stunning views of Le Massif de la Lauziere and Mont Blanc.
South from La Chambre
Length: 19km
Average gradient: 8%
Elevation gain: 1,529m
North from Augueblanche
Length: 28.3km
Average gradient: 5.4%
Elevation gain: 1.540m
Col du Telegraphe
A gateway to the Galibier, Col du Telegraphe is consistent throughout its entire length, letting you find your rhythm in these magnificent surroundings.
Length: 11.8km
Average gradient: 7.8%
Elevation gain: 856m
We hope these incredible places to cycle in the Alps has helped to inspire your next cycling holiday.
If you're planning a cycling holiday to the Alps, get an instant quote from Ski-Lifts. Ski-Lifts will provide hassle-free and reliable transfers from the airport to your cycling destination. 
Why book your airport transfer with us?

Flexible Booking
100% free cancellation
7 days before you travel. Plus our Covid Guarantee.


24/7 support
In case you're delayed or need our help


No hidden fees
Skis, child seats, luggage and amendments are all included.


Loyalty Points
Earn Money off your next holiday transfer (ski, golf, cruise & more)


Global Coverage
Over 200+ ski resort destinations


Award Winners
Multiple World Ski Award Winners. 'World Best Ski Transfer Operator'.
Airport transfer types to suit all budgets