Road Cycling in the Alps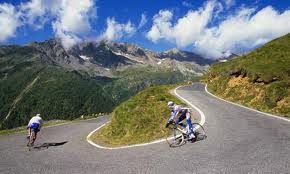 The Alps are infamous for cycling. They play host to some of the most popular sporting events in the world each year, with races such as the Tour De France and Giro D'Italia often being decided on the fearsome climbs.
This in turn leads to many keen cyclists making their way to the Alps each year to test themselves on these very same climbs. Names such as Alpe D'Huez, Avoriaz and Galibier are almost as famous for the cycling as they are for their winter sports.
But the Alps are not the sole domain of the elite cyclist. They also provide an excellent location for a more leisurely holiday. Take in the awesome scenery, clean mountain air, relaxed atmosphere and huge range of other activities on offer in the summer – mix it all together and you have the makings of a truly memorable holiday!
There are also many famous routes and tours that can be taken through the Alps at your own pace. One such tour is along the Route De Grande Alpes, which snakes its way through the French Alps. It provides a great opportunity to take in all that this magnificent landscape has to offer, combined with some stops in some beautiful towns and villages.
Each year the Tour De France has several stages in the Alps and the Pyrenese. These are often some of the most exciting and decisive stages of the whole tour, when the real contendors are tested to their limits. Check the Tour's official website for details of the route and the best place to watch the action.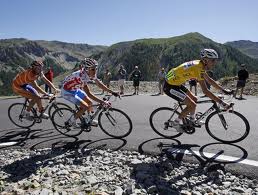 At Ski-Lifts we provide excellent value transfers to all of the major alpine resorts, all year round. We can transport bikes on your transfer Free of Charge.
We are also on hand to provide you with more bespoke services, for instance transporting your luggage between resorts or taking you from your base to other areas on day trips.
And we are more than happy to point you in the direction of some excellent accommodation providers to round off your holiday. Just drop us an email and one of our advisors will be happy to help.