Train Station Transfers to Ski Resorts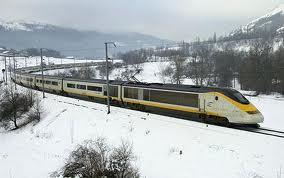 We know that there are various reasons why more and more people look to catch a train from the UK to the Alps.
For one thing people can be more confident that a train will not be delayed or cancelled due to adverse weather.
Then there is the fact that you do not have to pay the high charges for bringing out your ski and snowboard equipment.
Finally, it means you are not caught up in the queues and congestion of an airport in peak season – you can instead sit back and relax on a train, very often travelling through the night, so you can arrive in the morning and get a day in on the mountain.
Of course, this isn't even mentioning the environmental impact of flying, something every ski and snowboard enthusiast should be conscious of.
Travelling by train can help to reduce the carbon footprint or travelling to ski resorts and may help to sustain skiing and snowboarding in the Alps for generations to come.
At Ski-Lifts we offer private transfers from various train stations to ski resorts. The stations include Bourg St Maurice, Moutiers, Annecy, Geneva, Cluses, Bellegarde and more.
To find out if there is a transfer available to your resort from a train station, simply use the quote generator on the right hand side of this page. You can complete your booking online and will receive an instant confirmation by email.
In addition to private transfers from train stations, we have just launched a shared transfer from the train stations of Bourg St Maurice and Moutiers to the popular resorts of the 3-valleys, Val D'Isere and Tignes.
These transfers are available on weekends throughout the winter season – for more information on the timetable click here.