Customer Satisfaction Survey Results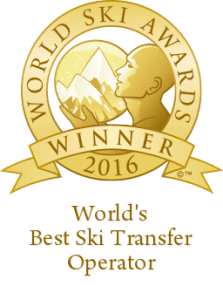 We believe that customer feedback is the only way for us to know if we are doing a good job and also helps us to focus on the things we should be looking to improve. To do this, we invite every customer to rate the service they received out of 5 after they have travelled and provide us with any feedback. We study these responses in detail and use it as the basis for continuing to develop Ski-Lifts.
We also know that the feedback from previous customers is an invaluable resource for many people when thinking about booking with a new company. This is obvious with the popularity of websites like Tripadvisor and the multitude of forums on the internet. Therefore, we publish the results of our customer survey here for you, so you can see what our customers think about us, before you decide whether to book your transfers with Ski-Lifts.

For the complete 2016-17 season, we received 3,720 survey responses from people who have travelled with us, with an average rating of 4.7 out of 5 for the service they have received.
For the 2015-16 season, we received an average rating of 4.63 out of 5, so we are delighted with the improvement in the rating we received this season.
Here is a selection of comments people have written about us in the past:
"This is the best transfer company I have ever experienced, great staff, very helpful, very polite and friendly, safe transfers in great vehicles."
"An excellent service and very good value for money."
"I have used Ski-Lifts for many years now and found them to be reliable and efficient, I would certainly recommend them."
"This was a one of our best transfers. The driver was excellent; considerate and sociable and he drove with care and safely."
"Our outbound flight suffered a 9 hour delay due to closure of Geneva airport. And yet the driver was still there to meet us and take us to our destination despite being after midnight. Excellent service!"
"I could not recommend your company highly enough, on service, price and efficiency. Well done I shall be recommending to all my friends and I will definitely be a regular customer!"
"We have Used Ski -Lifts twice now and will continue to do so…Great service and competitive prices."
"You provide an excellent service….thank you!"
"Highly recommend your company. Have used others and Ski Lifts is the best."

Ski-Lifts provide us with a safe, reliable and highly professional service for our clients to a range of destinations. They take great pains to ensure that everything runs to a timely fashion and on the rare occasion that something does go wrong, they work hard to find a solution. Everyone in the Ski-Lifts team is great to work with and their efforts are hugely appreciated by everyone here at Ski Independence. We look forward to working with you all again next season!

We have been working with Ski-Lifts for several years and have always found them to be professional, reliable and very efficient.

We have been working with Ski-Lifts since 2013 and have found them to be a very valuable partner. Ski-Lifts are very easy to work with, have a great range of competitively priced product and the service they provide to our mutual clients is always well received.
To see the detailed customer survey results from the past few seasons, click on the links below:
If you have any comments or suggestions please contact our customer service team at customerservice@ski-lifts.com