Customer Satisfaction Survey Results

Award-winning ski transfers from global airports. Book yours today.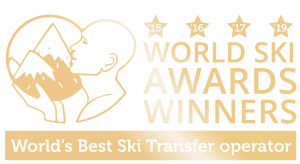 Ski Lifts Reviews
Ski Lifts is rated as Excellent on Trustpilot, and is globally an award winning airport and train station ski transfer provider.
We also steadfastly believe that customer feedback is the only way for us to know if we are doing a good job and also helps us to focus on the things we should be looking to improve. To do this, we invite every customer to rate the service they received out of 5 after they have travelled and provide us with any feedback. We study these responses in detail and use it as the basis for continuing to develop Ski-Lifts.
We also know that the feedback from previous customers is an invaluable resource for many people when thinking about booking with a new company. Therefore, we publish the results of our customer survey here for you, so you can see what our customers think about us before you decide whether to book your transfers with Ski-Lifts.
---

2017/18
4.7 out of 5
4,241 survey responses

2016/17
4.7 out of 5
3,720 survey responses

2015/16
4.63 out of 5
To see the detailed customer survey results from the past few seasons, click on the links below:
If you have any comments or suggestions please contact our customer service team at [email protected] .
"Our outbound flight suffered a 9 hour delay due to closure of Geneva airport. And yet the driver was still there to meet us and take us to our destination despite being after midnight. Excellent service!"
"This is the best transfer company I have ever experienced, great staff, very helpful, very polite and friendly, safe transfers in great vehicles."
"I have used Ski-Lifts for many years now and found them to be reliable and efficient, I would certainly recommend them."
"This was a one of our best transfers. The driver was excellent; considerate and sociable and he drove with care and safely."
"An excellent service and very good value for money."
"I could not recommend your company highly enough, on service, price and efficiency. Well done I shall be recommending to all my friends and I will definitely be a regular customer!"
"We have Used Ski -Lifts twice now and will continue to do so…Great service and competitive prices."
"Highly recommend your company. Have used others and Ski Lifts is the best."
What our clients say about us

"Ski-Lifts provide us with a safe, reliable and highly professional service for our clients to a range of destinations. They take great pains to ensure that everything runs in a timely fashion and on the rare occasion that something does go wrong, they work hard to find a solution. Everyone in the Ski-Lifts team is great to work with and their efforts are hugely appreciated by everyone here at Ski Independence. We look forward to working with you all again next season!"

"We have been working with Ski-Lifts for several years and have always found them to be professional, reliable and very efficient."

"We have been working with Ski-Lifts since 2013 and have found them to be a very valuable partner. Ski-Lifts are very easy to work with, have a great range of competitively priced product and the service they provide to our mutual clients is always well received."

Secure bookings
We're PayPal Enterprise powered & 100% PCI compliant.

Instant transfer confirmation
Ski Lifts offers the best ski transfer value and price, instantly.

Cheaper than alternatives
Our drivers are specialists - and cheaper than taxis.

Last minute ski transfer?
Yes! Ski-Lifts accept all bookings up to 48 hours prior

Free ski, snowboard luggage
Also yes, we do carry your child seats, skis, snowboards for FREE!
Airport transfer

types to suit all
budgets

Shared
Shared transfer vehicle with other passengers of similar flights & destinations.
_____
One of the most cost effective, efficient ways of getting to the ski resort.

Scheduled
Similar to shared - transfers run on timetables, so you must book a transfer that fits your flight times.
_____
Generally not door-to-door, but cheaper.

Private
All yours. Book a driver and transfer vehicle for your sole use.
_____
No sharing with others, no waiting at the airport and a direct door-to-door service, with no additional stops en route.

Private

Coach
Similar to a private transfers - but with a larger vehicle.
_____
Perfect for larger ski and snow groups wanting to travel together.

Exec & Limousine
Enjoy top-of-the-range Mercedes minivans or an S-Class Mercedes limousine.
_____
Like a private transfer vehicle, but with the additional benefit of travelling in pure style. Transfer information and more