Here's how to take the stress out of your next ski holiday
Although it seems counterintuitive, going on holiday can be a pretty stressful time. From delayed flights through to forgetting to pack the essentials, there are a million things that can cause undue stress.
A recent survey by Priority Pass discovered what people in the UK fret about most when travelling.
It surveyed 1,700 people in the UK and found that almost half (49%) agreed that baggage collection is the most stressful part of travelling via plane.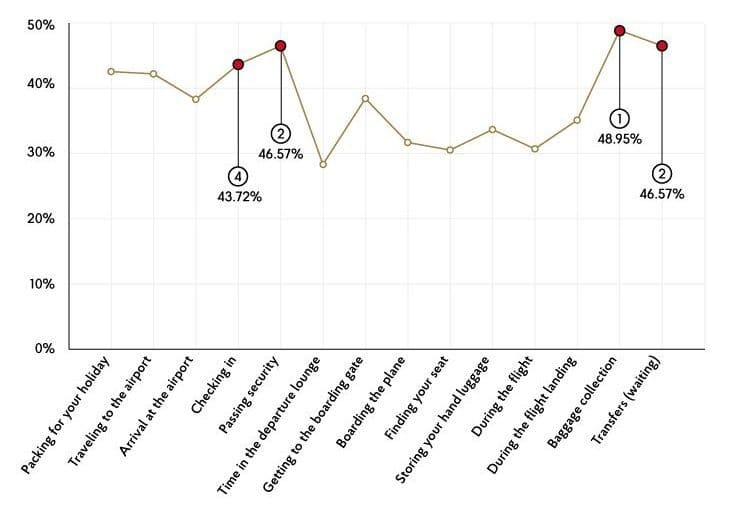 Priority Pass
Interestingly, passing security and waiting for transfers were also a source of stress when it came to flying.
Here's what you can do to minimise airport anxiety:
Use a packing checklist
Using a checklist can give you peace of mind and avoid any "Oh no!" moments that can cause undue stress when you remember something you forgot to pack
Here's a checklist of the essentials you'll need for your next ski holiday.
Check-in online
Almost all airlines now let you check in ahead of your flight, allowing you to print or download your outbound and return boarding passes before you leave, meaning you can skip standing in a long check-in queue if you don't have luggage. If you can't avoid the check-in counter though…
Arrive early
It's true that waiting around can be one of the most frustrating parts of flying but giving yourself plenty of time can avoid the need for anxious rushing and long check-in queues. Who knows when there will be motorway incidents or unforeseen circumstances.
If you can, staying overnight close to the airport can mitigate any panicking, meaning you can get a good night's sleep and removes the stress of driving to the airport and parking.
Organise parking in advance
If you are planning on driving to the airport, booking a carpark space in advance is the best way to save time and money and the sooner you do it, the more you're likely to get a good space close to the shuttle bus or terminal.
Be sure of baggage allowances
Baggage/luggage allowances can differ vastly depending on who you fly with so it's best to double-check the guidelines for weight restrictions to save yourself the stress of having to pay for excess weight or repack your cases in front of everyone!
It's also worth being sure of the hand luggage rules too. Skyscanner has a handy guide to restrictions by airline.
Be prepared for security
With 46% of those surveyed stating passing security as the most stressful part of air travel, it pays to be organised. Don't be one of the poor souls sorting their hand luggage at the entrance to the security checkpoint.
Try to pack your carry-on luggage in advance, with your liquids stored in an approved transparent bag, your devices at-the-ready for putting them in a tray.
It also helps to plan your outfit, avoiding boots you'll need to remove and belts, which can be stored in your bag until after security (unless your trousers are hanging around your ankles).
Once you are through security, take your time! Most stress comes from feeling that we need to rush to avoid holding people up but once you have collected your tray, relax and find a quiet table to reorganise yourself.
If you do want to avoid the queues, another option is to splash out on the fast-track lane for security if the airport provides one.
Have patience at the boarding gate
It's more than likely nowadays that you will have allocated seating for your flight, this means you don't need to queue unnecessarily to board. Take your time, rushing to get on board first means you'll be cramped in your seat for longer. If you get anxious about having an overhead storage space, you could purchase speedy boarding and avoid queuing altogether.
Remember to enjoy your flight
Believe it or not, being in the air can be one of the least stressful parts of travelling via plane. If the thought of flying does make you anxious though, there are a few things you can do to help you relax. If you are travelling with children, bringing books and toys for them to play with can help keep them entertained.
Remember to download your favourite Netflix shows onto a tablet or your phone as well. And of course, there is ample time for snacking, because nobody wants to add hunger to their travel stresses.
Make your luggage memorable
It's not surprising that baggage collection was the number one stress factor cited by those surveyed. We've all been there, being tousled around the carousel as people vie for the perfect spot. To help your baggage reclaim go as smoothly as possible, make sure your suitcase stands out.
Whether it's a colourful case, tying bright ribbons or luggage belts or adding memorable stickers, be sure that your case is unmistakably yours. You can even install a luggage tracker if you really want to, to give you peace of mind in case your case does mysteriously vanish.
Book airport transfers you can rely on
Waiting on airport transfers can certainly add to holiday stress. Nobody likes getting to their holiday destination and then having to wait for ages for their transport. When booking your transfer, be sure to check the reviews of the transfer operator to ensure they are reliable. For example, here are ours:
Booking a private transfer can also ensure that when your plane arrives, your driver can be waiting to whisk you to your hotel or resort without making umpteen stops for strangers.
At Ski Lifts, we believe that your holiday begins with us. Our entire business model is based around offering stress-free and convenient airport transfers because we know that you have enough to worry about!
Now that you are hopefully less stressed, go ahead and book that next ski trip…

Why book your airport transfer with us?
Flexible Booking
100% free cancellation
7 days before you travel.
24/7 support
In case you're delayed or need our help
No hidden fees
Skis, child seats, luggage and amendments are all included.
Loyalty Points
Earn Money off your next holiday transfer (ski, golf, cruise & more)
Global Coverage
Over 200+ ski resort destinations
Award Winners
Multiple World Ski Award Winners. 'World Best Ski Transfer Operator'.
Airport transfer types to suit all budgets