Why You Absolutely Must Go Skiing in Spring & Which Ski Resorts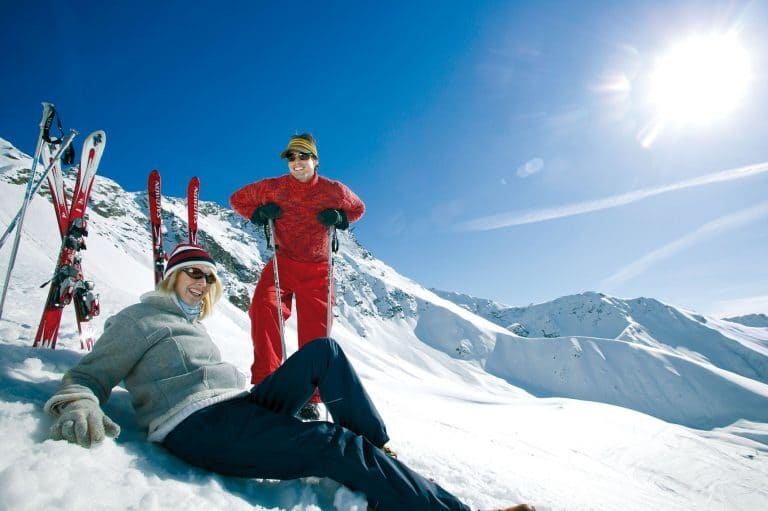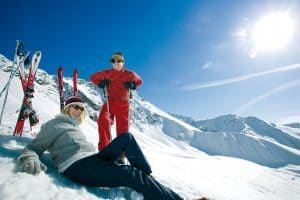 You may be thinking a ski holiday in March is absolutely absurd, as it's well-known that folk enjoy this outdoor sport when the snow is in full swing.
In actuality however, opting for skiing in March is one the best times to hit the slopes! And allow us to give you reasons why.
Family Vacations

March is the perfect month to enjoy a ski holiday for families with small children. This is because the weather is starting to warm up, reducing the chance of your little ones complaining of frozen hands and feet.
It's also a much more relaxed atmosphere, meaning that you won't have to wake up with the sunrise to get the best spots or to beat the lines. You can simply enjoy a leisurely vacation with the ones you love.
Additionally, it's a great time to enjoy the last bit of sunshine whilst on a family picnic for lunch, or to enjoy the view of a gorgeous sunset without feeling exceptionally cold. Who knows, you may just come back with a bit of a tan!
Packing Light
In addition to the warmer weather when you're skiing in March, you won't need to pack several different layers of clothing, creating a heavy and inconvenient suitcase.
It also means that you won't have to wear said-layers during your ski holiday, which can be a real drag to put on and take off.
Less Crowded
By going on that ski holiday in March, you'll be able to enjoy prime time without the crowds. While many spend their time waiting in line to enjoy the slopes during peak season, you'll be able to enjoy the luxury of more space, more snow, and more time outside to enjoy the spring vibe.
People are also more friendly while on ski holidays in March, as they too don't need to deal with lots of people, and can bask in the fact that March holds longer days and fresher snow.
Better Deals
It's no lie that tourism "coins in" during peak season – and when it comes to skiing, that season is winter. But for those who think smart, going skiing in March is actually the best time to get cheaper deals, making it a perfect excuse to enjoy the slopes. Sure, it's not the February half term for school break for many European customers, but it's worth booking the timeaway if even for the (slightly) quieter slopes.
Along with cheaper deals, you'll save on rental equipment, lessons, and lift tickets.
Not only that, but many ski resorts offer discounts on accommodation during this time, as it is approaching the end of the season. You'll probably also find a ton of activity packages and deals at a lower cost too.
More Snow
After peak snow season has ended, the pistes are left in great condition having had the entire winter to create a solid base. That means that skiing for both newbies and pros is a real treat.
Additionally, those adventurous skiers have the best of both worlds – powder snow on north facing slopes, and spring snow on the east, south, and west-facing slopes.
With that, here are our top picks when it comes to ski resorts:
Alpe D'huez
A ski resort in France, Alpe D'huez can be found in the Central French Western Alps. It opened its doors in 1936 and boasts 300 days of sunshine with a south-facing plateau at 1860 m above sea level.
Visitors have dubbed it a "great place to ski and snowboard," and agree that the pistes are perfect for beginners, professionals, and everyone in between.
What's also great about Alpe D'huez is that they offer free ski airport transfer via shuttle bus that runs day and night.
Added bonus: this ski resort transfer option is available during the summer and off-peak seasons too, with the extra snow lasting out for skiing in March.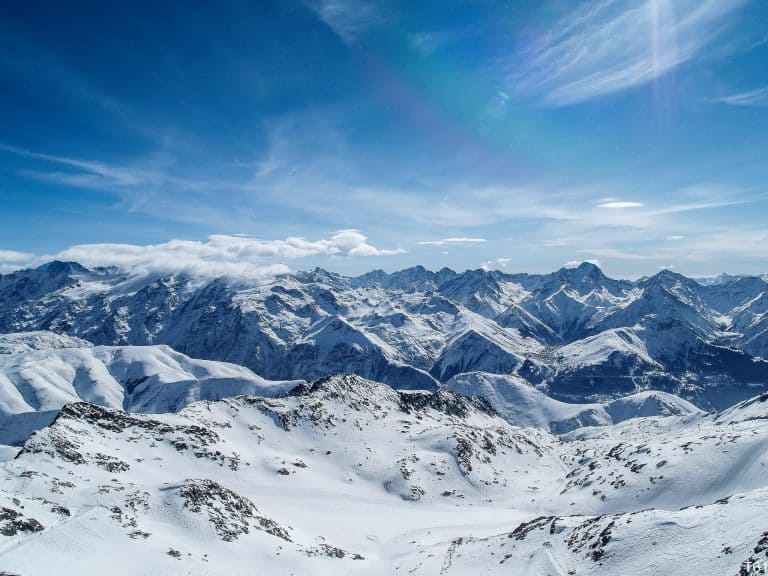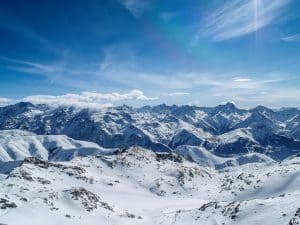 La Plagne
Another French ski resort in the alpine valley of Tarentaise, La Plagne sees the likes of over 2.5 million visitors per season. It's a resort that is great for kids and families, friends, couples and lovers, and has a number of pristine accommodation options.
Guests have given this ski resort five stars for its beautiful ski area, quality accommodation, and value for money. It's also well-known for having excellent links to surrounding villages and areas.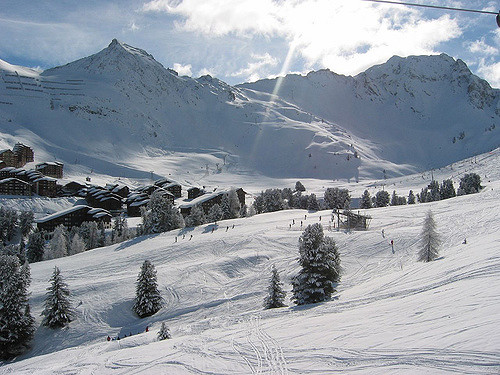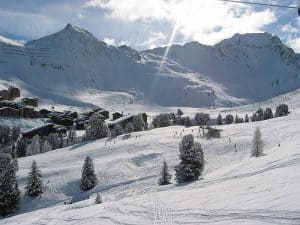 Chamonix
A ski resort but also a proper town, reflect on the day over a cocktail at Moo Bar or locally brewed ale at the Micro Brasserie de Chamonix – both often have live music to add to the scene.
Chambre 9 gets the crowds dancing on tables to everyone's favourite tunes, while Les Caves is the pick for a posh party scene.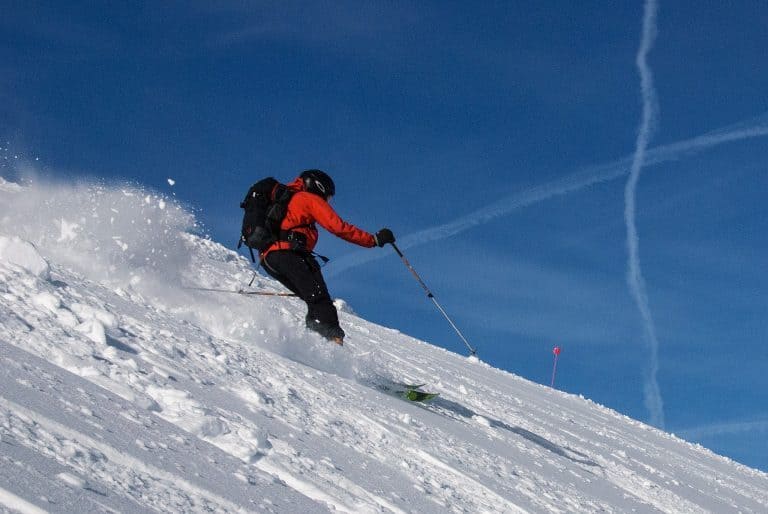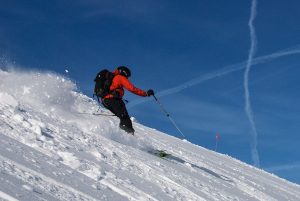 Not only that, but fun and exciting events are held year-round, giving you even more reason to go on that ski trip in March.
Ready to hit the slopes this March, beating the winter madness that is peak ski season? It is undoubtedly the perfect.
Why book your airport transfer with us?
Flexible Booking
100% free cancellation
7 days before you travel.
24/7 support
In case you're delayed or need our help
No hidden fees
Skis, child seats, luggage and amendments are all included.
Loyalty Points
Earn Money off your next holiday transfer (ski, golf, cruise & more)
Global Coverage
Over 200+ ski resort destinations
Award Winners
Multiple World Ski Award Winners. 'World Best Ski Transfer Operator'.
Airport transfer types to suit all budgets