Kayaking and Rafting in the Alps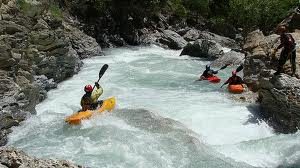 It is not surprising that the rivers that flow through the Alps provide one of the best locations in the world for kayaking and white-water rafting trips.
As the winter snow on the mountains melts in spring and summer, the water cascades down through waterfalls and streams, joining together to form raging torrents, before flattening out and calming as they reach the valley floor.
For this reason, in and around many of the most famous alpine resorts you can find an abundance of kayaking and rafting centres and guides, on hand to take you out for an adrenaline filled ride.
For the experienced kayaker, the Alps are home to some of the most fearsome rapids in the world. Resorts such as Courmayeur in Italy, Interlaken in Switzerland and Alpe D'Huez in France are famous for their rivers.
But the rivers are not just for the most experienced. An afternoon of white water rafting is a must for anyone visiting the alps in the summer. There is the opportunity to start on the more gentle rapids before building up to more serious white water, all under the supervision of a qualified guide.
Almost a cross between rafting and kayaking is hydro-speeding – as you float down the river on a one person inflated raft, steering yourself with your feet.
Whatever you choose, you are guaranteed an experience you won't forget!
Ski-Lifts provide airport transfers to all of the major alpine resorts in Europe all year round. You can get a quote and book online, in a few easy steps.
As well as offering transfers, we can also assist in getting you around the alps when you are, transporting you to the river or out on day trips. Simply email us with your requirements and we'll be glad to help.
Over the years we have developed close relationships with many accommodation providers in the alps and we are happy to recommend something suitable for your stay.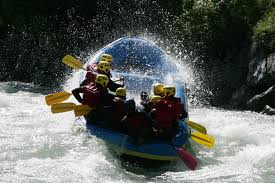 If you can't find what you are looking for, just ask.