The Best Après Ski Resorts in the French Alps
A day of skiing and snowboarding is hard to beat. However, what you do after a day on the mountain is important too and a lively ski resort is one of the most important things for most. Here at Ski-Lifts, we've done the digging to bring you 10 of the best party ski resorts in France…
Val d'Isere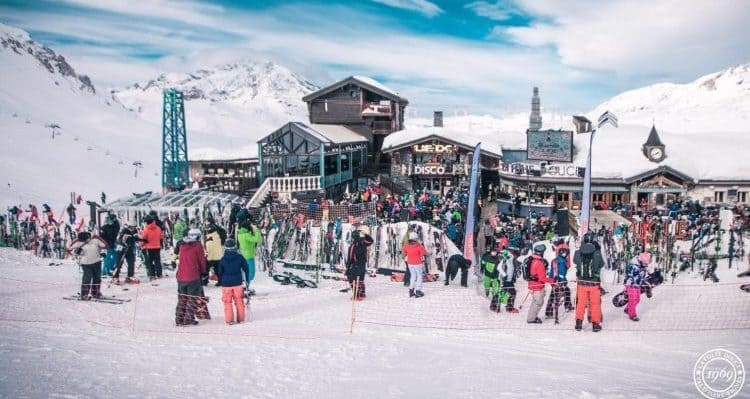 © Val d'Isere tourism office
Whatever you're young or old, staying in one of the most expensive chalets in the world or a cheap and cheerful apartment, Val d'Isere's après ski scene has something for everyone. There are two bars in particular that you can't afford to miss; the Folie Douce bar has performers who dance, play instruments, perform circus tricks and generally form a massive mountainside party every afternoon. Also, Dick's Tea Bar is down in the town centre and gets in top DJ's to keep the dancefloor full until 5am. Other good spots are Cocorico for live music on the piste-side and the Doudoune Nightclub.
Join the party! Transfers from Geneva Airport to Val d'Isere take approx. 3hrs.
Meribel
© Meribel tourism office
Meribel's Rond Point – also known as the Ronnie – is a world-class après ski institution and has been drawing in crowds for decades with its toffee vodka, live bands and loud DJ sets. Its sister venue is the O'Sullivans Club, where you'll find drinks deals and themed funk, soul and disco nights. This Three Valleys resort is huge with British skiers and snowboarders, so if you want a home-from-home party atmosphere with the bonus of mountains on your doorstep, this is the après ski destination for you!
Join the party! Transfers from Chambery Airport to Meribel take approx. 1hr 30 mins. Whereas, transfers from Geneva Airport to Meribel take approx. 2hrs 15 mins.
Alpe d'Huez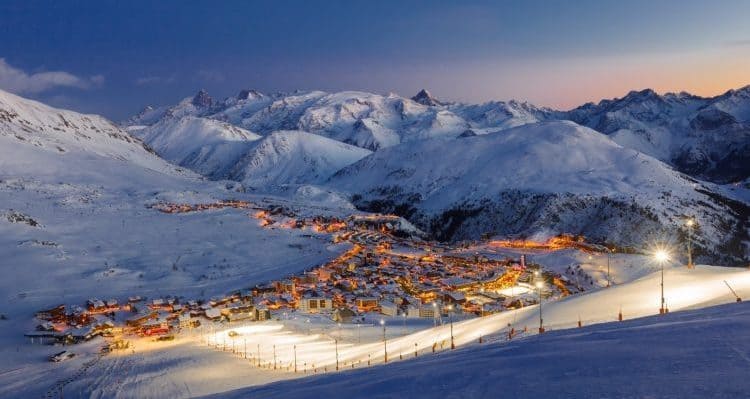 © Alpe d'Huez tourism office and Laurent Salino
Alpe d'Huez is no sleepy ski resort. It has its own branch of Folie Douce, the Freeride Café with its pool tables (and a slide to the toilet!) and Smithy's Tavern with its Tex Mex menu, beer jugs and band nights. When everywhere else has shut up shop for the night, there's a nightclub called L'Igloo which stays open the latest. Drinks and dancing aren't the only après ski activities, there's also a big outdoor ice rink, where you can sometimes watch ice hockey games and the Sports and Convention Centre offering swimming, squash, climbing and bouldering.
Join the party! Transfers from Grenoble Airport to Alpe d'Huez take approx. 1hr 40 mins.
Val Thorens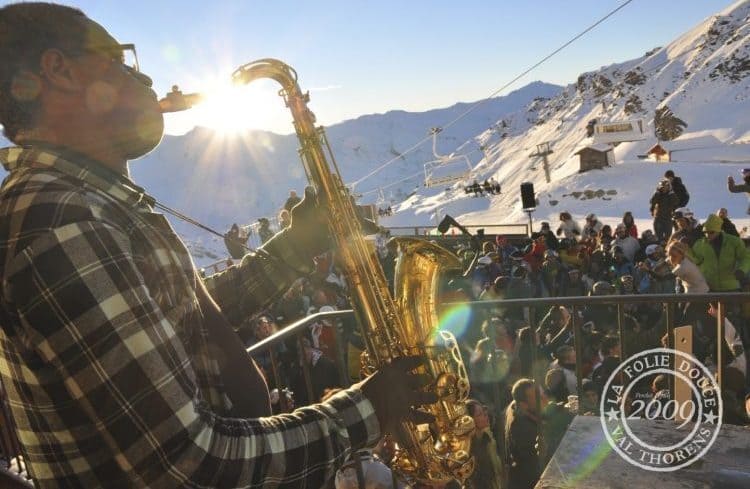 © Val Thorens tourism office and La Folie Douce
Val Thorens is the highest resort in the Alps, and many people say it's also the liveliest. The resort usually puts on a big event each month, like the JBL Snow Party (with performers including Tinie Tempah) and Festi Val Tho (an electro event), making it very popular for student ski trips. All season long, bars like 360 and Folie Douce mark the end of the skiing day with loud music and dancing, while Le Malaysia (the biggest nightclub in the Alps) is the place to end your night. Val Thorens doesn't just offer your usual après activities, you can also try ice driving or mountain ziplining.
Join the party! Transfers from Geneva Airport to Val Thorens take approx. 2hrs 30 mins. Whereas, transfers from Chambery Airport to Val Thorens take approx. 1hr 30 mins.
Morzine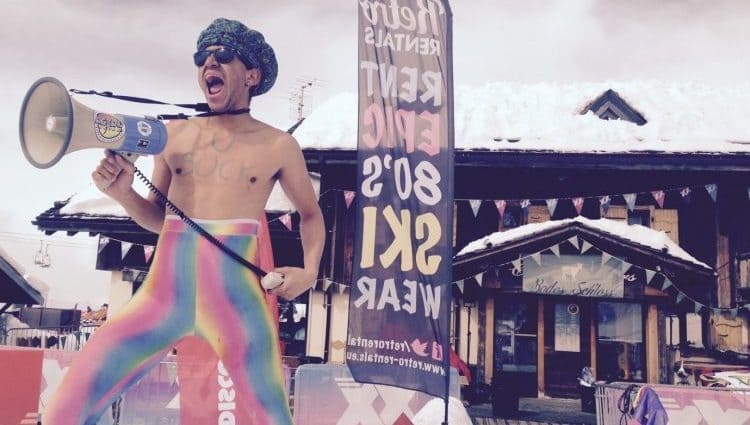 © Retro Rentals, Morzine – facebook/retrorental/
Before you head down the mountain in Morzine, get to Inferno for lively parties with resident DJ's and bands. You can recognise the bar from its double-decker bus, and if you're having too much fun to make it down on the last lift, they offer guided headtorch descents. Café Chaud sounds like a cosy place to cradle a mug of hot chocolate, but with a website boasting 'the most hectic and audacious nights in Morzine', it's the total opposite. The bar hosts beer pong championships and big themed parties and they give drinks discounts to those who place their order in French! Beanies is popular for its live music, while Bar Robinson is a Morzine institution, having been open since 1926, it has become famous for serving 7% Mützig lager. When it comes to nightclubs, Coyote and L'Opera are packed until the early hours.
Join the party! Transfers from Geneva Airport to Morzine take approx. 1hr 30 mins.
Courchevel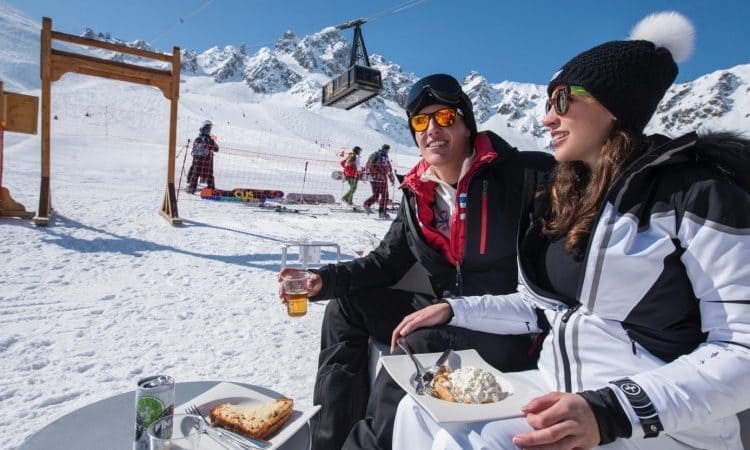 © Courchevel tourism office and David Andre
Posh, but never too posh to party, Courchevel is world-renowned for its expensive and exclusive après ski scene. Follow the routine of the rich and famous and slip from the slopes (or the shops) into a chic bar like Le 8611 for an aperitif, move on for a Michelin starred meal in one of the celebrated eateries, then head to Les Caves nightclub to spend a small fortune on a jeroboam or two of champagne. While Courchevel 1850 is the place to see and be seen, the other villages also have some great bars, for example, Fire and Ice and Bubble Bar in 1650.
Join the party! Transfers from Geneva Airport to Courchevel take approx. 2hrs 30 mins. Whereas, transfers from Chambery Airport to Courchevel take approx. 1hr 30 mins.
---
---
Chamonix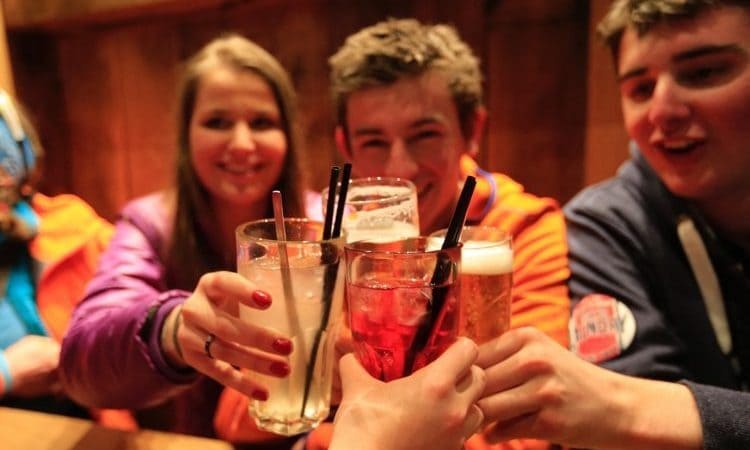 © Chamonix Mont Blanc tourism office and Monica Dalmasso
A ski resort but also a proper town, Cham has no shortage of après ski offerings to keep you busy from the early afternoon to the early hours of the morning. Reflect on the day over a cocktail at Moo Bar or locally brewed ale at the Micro Brasserie de Chamonix – both often have live music to add to the scene. Chambre 9 gets the crowds dancing on tables to everyone's favourite tunes, while Les Caves is the pick for a posh party scene. L'Amnesia is the main nightclub, with themed nights, famous DJ's and entertainers. If you visit on St Patrick's Day, Munster Bar is the place to be!
Join the party! Transfers from Geneva Airport to Chamonix take approx. 1hr 15 mins.
Tignes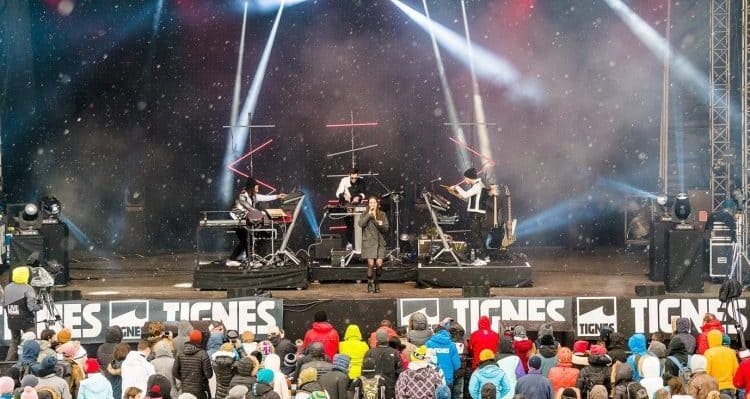 © Tignes tourism office and Andy Parant
The après ski in Tignes' neighbour Val d'Isere gets a lot more airtime, but Tignes definitely deserves a mention. It's easy to get to the famous Folie Douce from here, and down in resort, the Val Claret and Le Lac areas have their fair share of places to drink and dance. You can ski to the door of Loop Bar, which has a huge sun terrace and DJ nights. Couloir is the place to watch a football match, while the Dropzone Café is a bar that transforms into a nightclub where you can dance the night away. Another late-night venue is Blue Girl, which stays open until 5am. Other than drinks and dancing, Tignes has loads of après ski activities like snow tubing, a ski bungee jump and ice diving. It hosts one of the biggest New Year's Eve parties in the Alps, as well as massive events like European Snow Pride.
Join the party! Transfers from Geneva Airport to Tignes take approx. 2hrs 45 mins.
Les Deux Alpes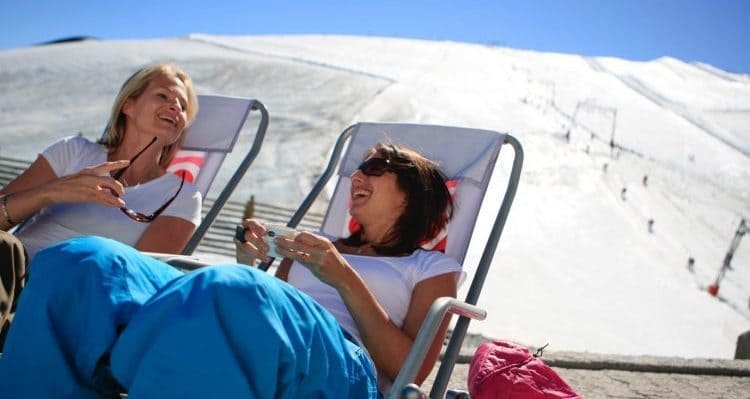 © Les Deux Alpes tourism office
Not every ski resort has a pirate-themed pub, especially one serving more than sixty different types of rum! Les Deux Alpes does – it's called the Rhumerie and is one of many lively bars and clubs you can visit during après ski hours. Other venues worth a visit are Smithy's Tavern (the sister bar to the one in Alpe d'Huez) and Grotte du Yeti, which is very popular for its sun terrace, bands, DJ's and theme nights. Not ready for bed by last orders? Head on to the Avalanche nightclub which stays open to 6 in the morning! Les Deux Alpes nightlife alone should be enough for you to choose this resort.
Join the party! Transfers to Grenoble Airport to Les Deux Alpes take approx. 1hr 40 mins.
Avoriaz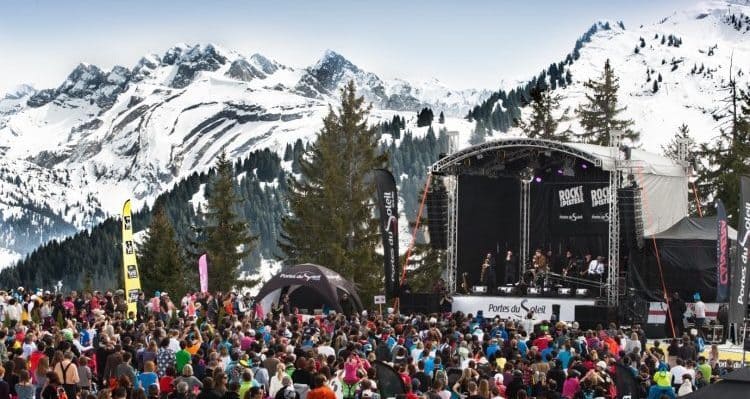 © Morzine-Avoriaz tourism office and JB Bieuville
Avoriaz loves a good festival, with the latest on the scene being Snowboxx, with Stormzy, Fatboy Slim and Chase & Status among performers and events like snowball fights and disco dodgeball. The resort is also a big part of the Portes du Soleil's annual Rock the Pistes festival, which usually takes place on the same week. Whether you come during festival week or not, there are plenty of ways to enjoy après ski. Fresh from a day of skiing or snowboarding, you can have a drink or two at Chez Flo by the halfpipe, Les Trappeurs at the top of the 3S lift, Yeti at the foot of the slopes or Café Le Fantastique, which is popular for tapas and cocktails. Later in the evening, Le Shooters has a live music act most nights and closes at 2am. The resort also has the Aquariaz centre for an alternative activity, which is a Centre Parcs like tropical water world.
Join the party! Transfers to Geneva Airport to Avoriaz take approx. 1hr 45 mins.
---
Now that we've given you 10 resorts to test out, here are 10 top tips for an amazing après ski holiday:
Get a group of your most party mad pals together – it's always more fun with friends!
Book out a whole chalet so you can keep the festivities going (find inspiration and tips for booking groups on Sno).
Let Ski-Lifts sort out your transfers (we have something to suit all group sizes and budgets and can pop on your playlist to get you in the mood for après!).
Plan at least one fancy dress night (get some inspiration on Pinterest).
Get some snazzy snow boots (find fashionable inspiration on Vogue).
Bring a jacket (the bars are boiling hot but you'll thank us on the journey home!).
Speaking of which… Make sure you know the way home.
Talk to the bartenders (they always have brilliant advice on where to ski and things not to miss in resort).
Make the most of happy hours (it's no secret that drinks are expensive in the French Alps!).
And of course, have fun but always be drink aware – you don't want to après ski so hard you miss out on the snow the next day!
---
---
Why book your airport transfer with us?

Flexible Booking
100% free cancellation
7 days before you travel. Plus our Covid Guarantee.


24/7 support
In case you're delayed or need our help


No hidden fees
Skis, child seats, luggage and amendments are all included.


Loyalty Points
Earn Money off your next holiday transfer (ski, golf, cruise & more)


Global Coverage
Over 200+ ski resort destinations


Award Winners
Multiple World Ski Award Winners. 'World Best Ski Transfer Operator'.
Airport transfer types to suit all budgets