Upcoming events in the Alps this ski season
Updated 09/03/2020 – With the recent coronavirus pandemic, many events have taken precautionary measures and cancelled or postponed activities. Please check on the individual event sites for the latest updates. 
After choosing a destination with stunning scenery and a great ski resort, buying the plane tickets, arranging the airport transfers with Ski Lifts and booking a relaxed and comfy chalet, you might be searching for activities to create enjoyable memories with your family or a group of friends. For this reason, we want to keep taking the hassle out of your holidays and suggest some exciting events for you to attend in the Alps.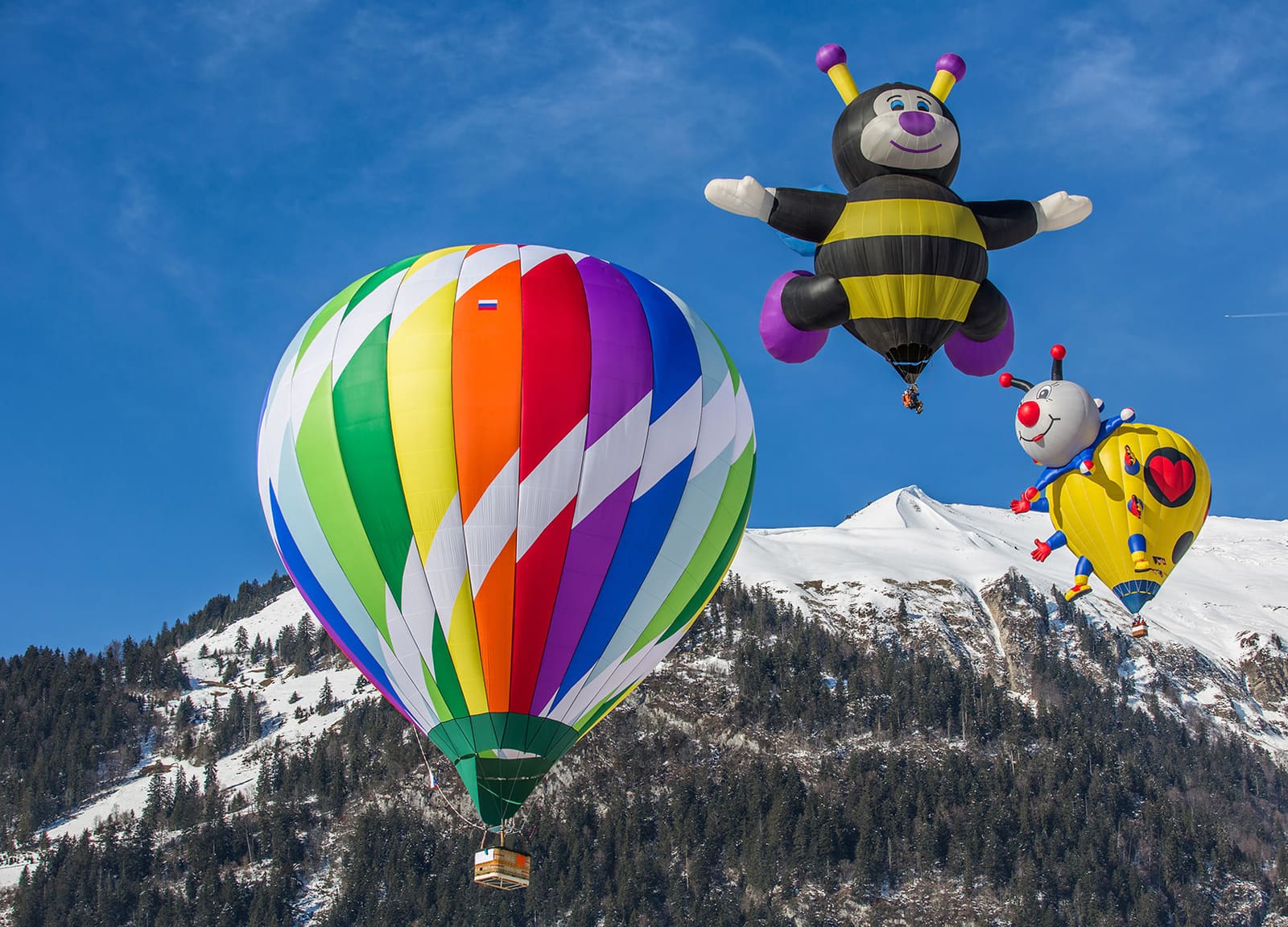 International Hot Air Balloon Festival at Château-d'Oex
International Hot Air Balloon Festival
From the 25th of January to the 2nd of February.
At Château-d'Oex, approximately 1 hour and 30 minutes away from Geneva Airport.
Every January Château-d'Oex hosts hundreds of hot-air balloons for a 9-day colourful event in the Swiss Alps. The event includes a night-time show, flights in a hot air balloon, passenger flights in a helicopter and Wednesday afternoon is always dedicated to children, with many entertaining activities for families. 
See all the activities at https://www.chateau-doex.ch/fr/Z4237/festival-des-ballons-test-vitrine
Snowattack Festival 2020
From the 25th of January to the 2nd of February.
At Les Orres, approximately 3 hours away from Turin Airport.
For the 13th time, the French Alps welcome the Snowattack: a skiing, snowboarding and music festival that promises to keep you up all week. At Snowattack, you can start your day running a ski contest, participating in a Snow Dodgeball or tackling the slopes in a bikini. With sunset, the fun doesn't stop, all the music events start and provide an endless amount of parties until dawn.
Check out the line-up and all the activities at https://snowattack.hu/en/
Backcountry Festival Davos 2020
From the 30th of January to the 2nd of February.
At Davos und Umgebung, approximately 2 hours away from Zurich Airport.
The Backcountry Festival Davos will take place for the fourth time this winter 2020. The Festival, with a base camp in Hotel Montana, offers daily courses and activities, such as ski tours, Snowshoeing and Freeride, Splitboard and avalanche courses. The activities are available at any level, from newbies having their first ski holiday to experts of the Davos slopes. An excellent opportunity to enjoy the snow with your family and friends or meet other skiers in the Swiss Alps. 
Find more information at https://www.backcountryfestival-davos.ch/
Snowboxx Festival 
From the 21st to the 28th of March.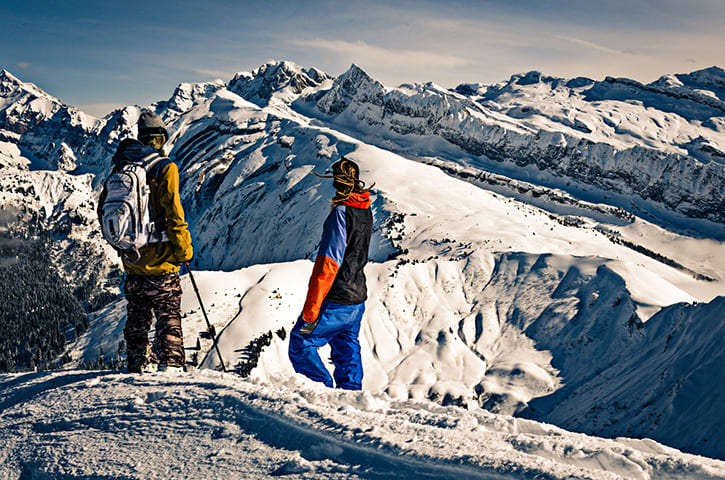 Avoriaz' stunning scenery
At Avoriaz, approximately 1 hour and 30 minutes away from Geneva Airport.
In the heart of the charming Avoriaz, you can join many activities, such as beginners ski and snowboard lessons or freestyle lessons to become a pro. And from skiing to an epic après party. The line-up of the festival is headed by acclaimed DJs such as Andy C, Annie Mac or DJ Ez, amongst other artists. Snowboxx offers an epic week full of music, ski and snowboard activities and more.
Visit Snowboxx for more details. 
Coverfestival Davos
From the 26th of March to the 29th of March.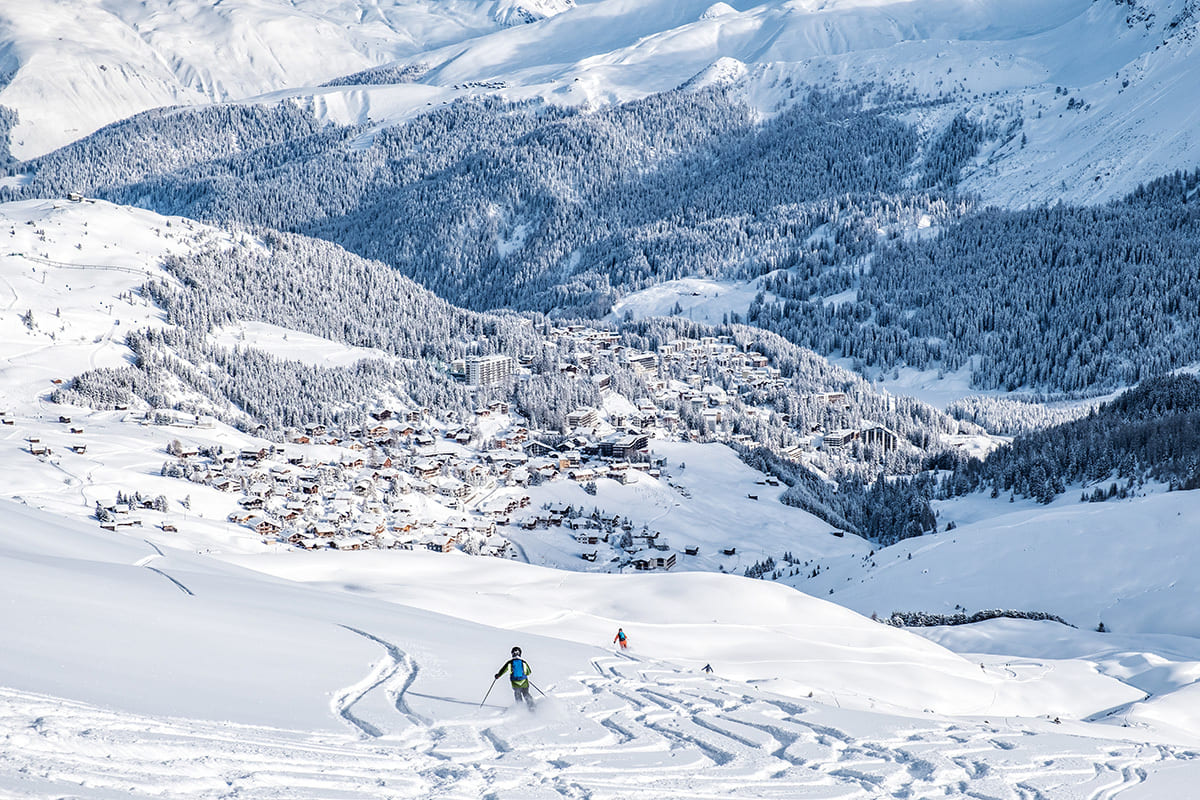 Skiing in Davos
At Davos, approximately 2 hours away from Zurich Airport.
Apart from winter sports activities at Davos, you can also enjoy The Davos Cover Festival, with International cover acts and tribute bands playing your favourite chart hits. With several locations such as the Bolgen Plaza or the Steigenberger Grandhotel Belvédère, the festival stands for fun days in the snow and pure nightlife.
Don't miss your favourite tribute act and see all the details at https://www.coverfestival.ch/
Red Bull Home Run
The 4th of April.
At Davos (Jakobshorn), approximately 2 hours away from Zurich Airport.
Red Bull has organized the craziest downhill race in the Alps. The contestants will start the race at Jatzhütte, sprint to their boards and descend the slope until the finish line at Bolgen Plaza. There will be four categories; ski women, ski men, snowboard women and snowboard men, and each one will have a winner. The first ones to cross the finish line will win a ski weekend with hotel accommodation in Davos for two people. After the race, everyone will be able to enjoy the biggest end of season party in Davos, with live music, food and drinks. 
The registration is already open, check all the details at https://www.redbull.com/ch-de/events/homerun
Rüfi 900
The 4th of April.
At Lech Zürs (Arlberg), approximately 1 hour and 30 minutes away from Innsbruck Airport.
Rüfi 900 is an Uphill Challenge at the Lech Zürs am Arlberg that starts at the parking lot of the Schlosskopf lift and finishes at the Rüfikopf platform. Ski tourers, mountain runners, hikers or even cross-country skiers can prove themselves and ascend up 960 metres of altitude difference with an average gradient of 78%.
Check the different categories and the equipment recommendations at  https://www.lechzuers.com/en/ruefi-900/
Snowbombing
From the 13th to the 18th of April.
At Mayrhofen, approximately 1 hour away from Innsbruck Airport.
Once again, another music festival that combines fun mountain experiences during the day and awesome live concerts and parties at night. Liam Gallagher, Foals and The Street, amid other musicians, will be the soundtrack of an amazing week in the Alps. Party in a forest, rave in an igloo, hang out in luxury spa hotels and meet a community of like-minded party starters. 
For the line-up and details, check out https://snowbombing.com/
Weingondeln – Wine Gondolas
The 17th of April.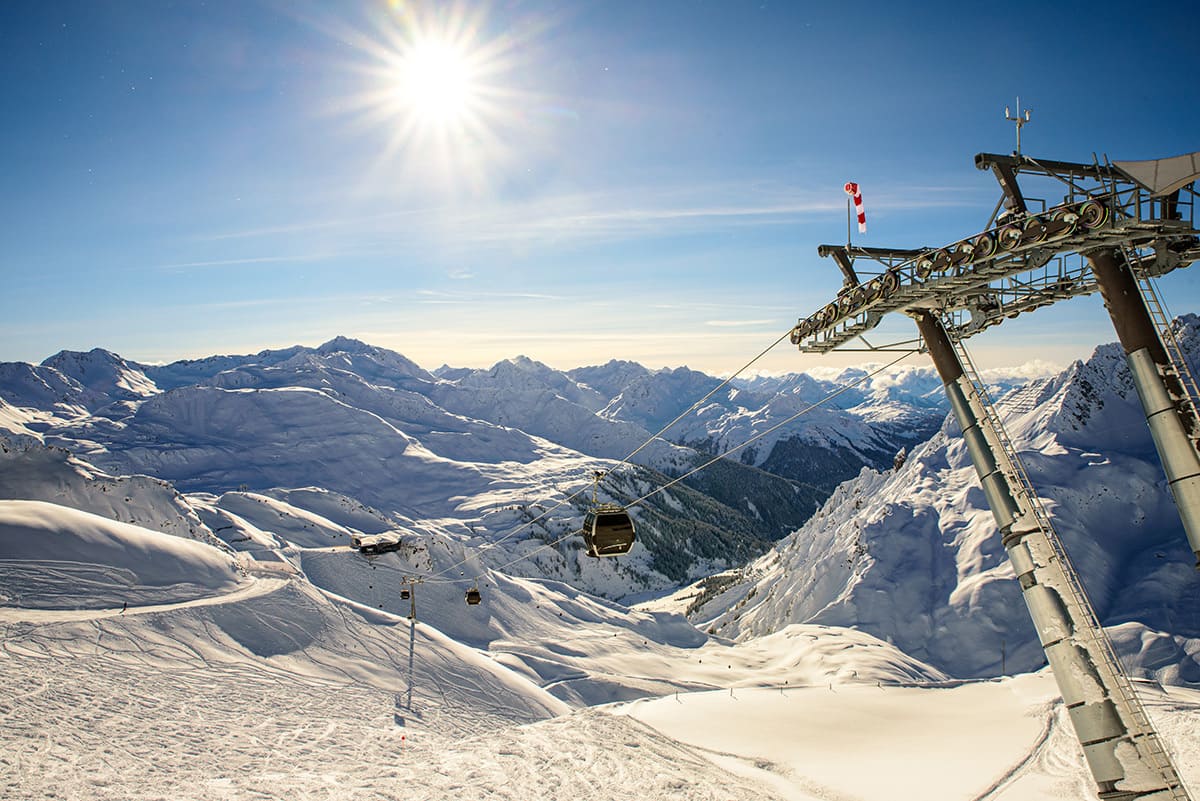 Lech Zürs landscape from the gondola lifts
At Lech Zürs (Auenfeldjet), approximately 1 hour and 30 minutes away from Innsbruck Airport.
Have a unique wine tasting experience after a morning on the slopes. Enjoy the amazing scenery of Lech from a gondola lift while you try a great selection of Austrian wines. 
For times and prices visit LechZeurs.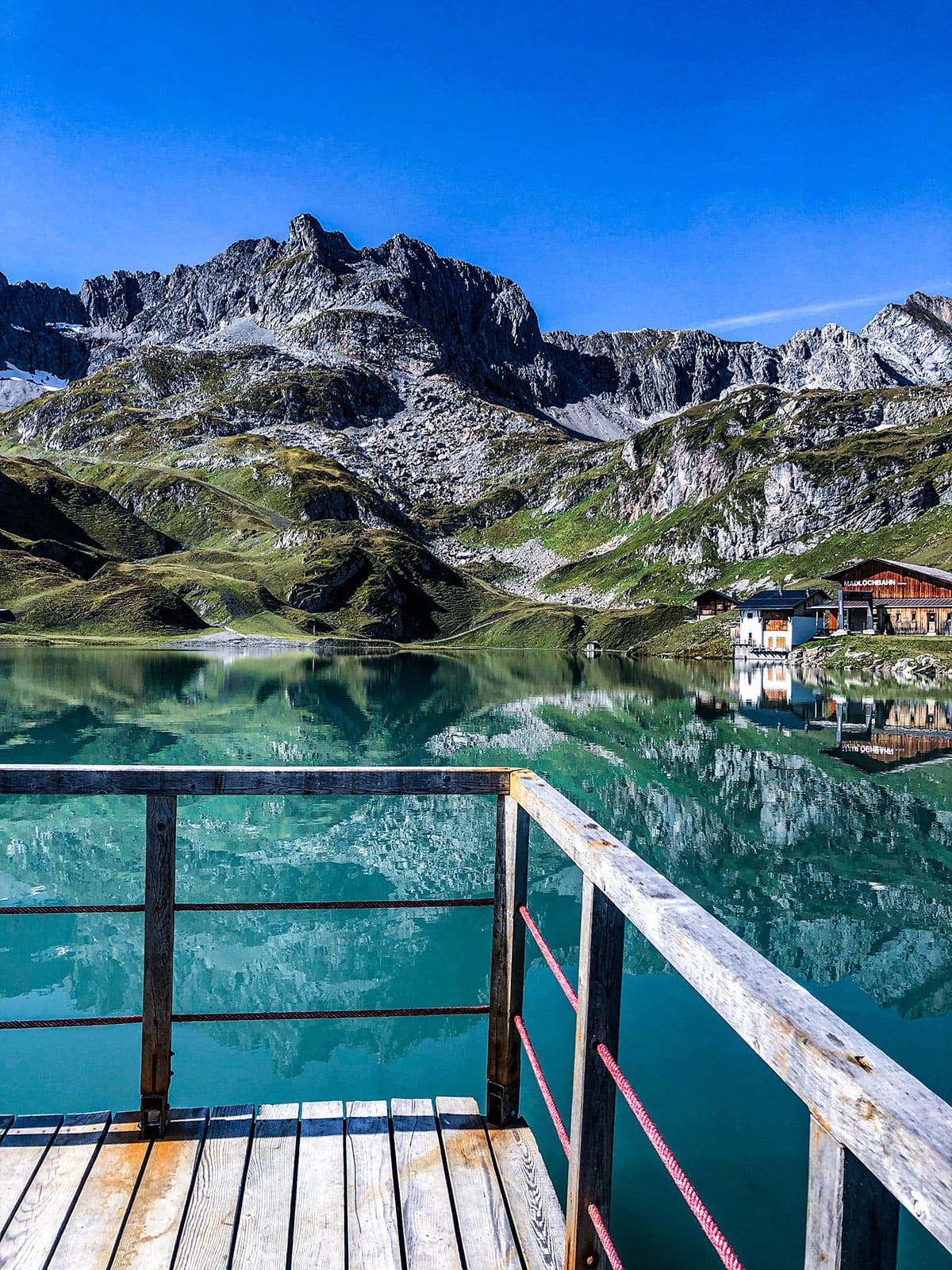 Lech in spring
Oberlecher Spring Festival
From the 18th of April to the 19th of April.
At Lech (Oberlech), approximately 1 hour and 30 minutes away from Innsbruck Airport.
If you are going to enjoy some late-season skiing in the Austrian Alps, you shouldn't miss the Oberlecher Spring Festival. A great après-ski plan with several music bands playing in the open-air while you enjoy the sunny terraces of Lech. 
For more details go to Lechzeurs.

Why book your airport transfer with us?

Flexible Booking
100% free cancellation
7 days before you travel. Plus our Covid Guarantee.


24/7 support
In case you're delayed or need our help


No hidden fees
Skis, child seats, luggage and amendments are all included.


Loyalty Points
Earn Money off your next holiday transfer (ski, golf, cruise & more)


Global Coverage
Over 200+ ski resort destinations


Award Winners
Multiple World Ski Award Winners. 'World Best Ski Transfer Operator'.
Airport transfer types to suit all budgets