Bon appè-ski! The best ski resorts for foodies
For many skiers, a great holiday must include excellent snow and delicious haute cuisine. After a day on the slopes, you need to relax, enjoy the company and have a nice meal so the next day you are ready for those pistes. If you're a foodie, taste a classic and warm raclette or explore new flavours like céleri and wild sorrel in sorbet, or risotto with smoked onion at some of the fanciest restaurants in the Alps.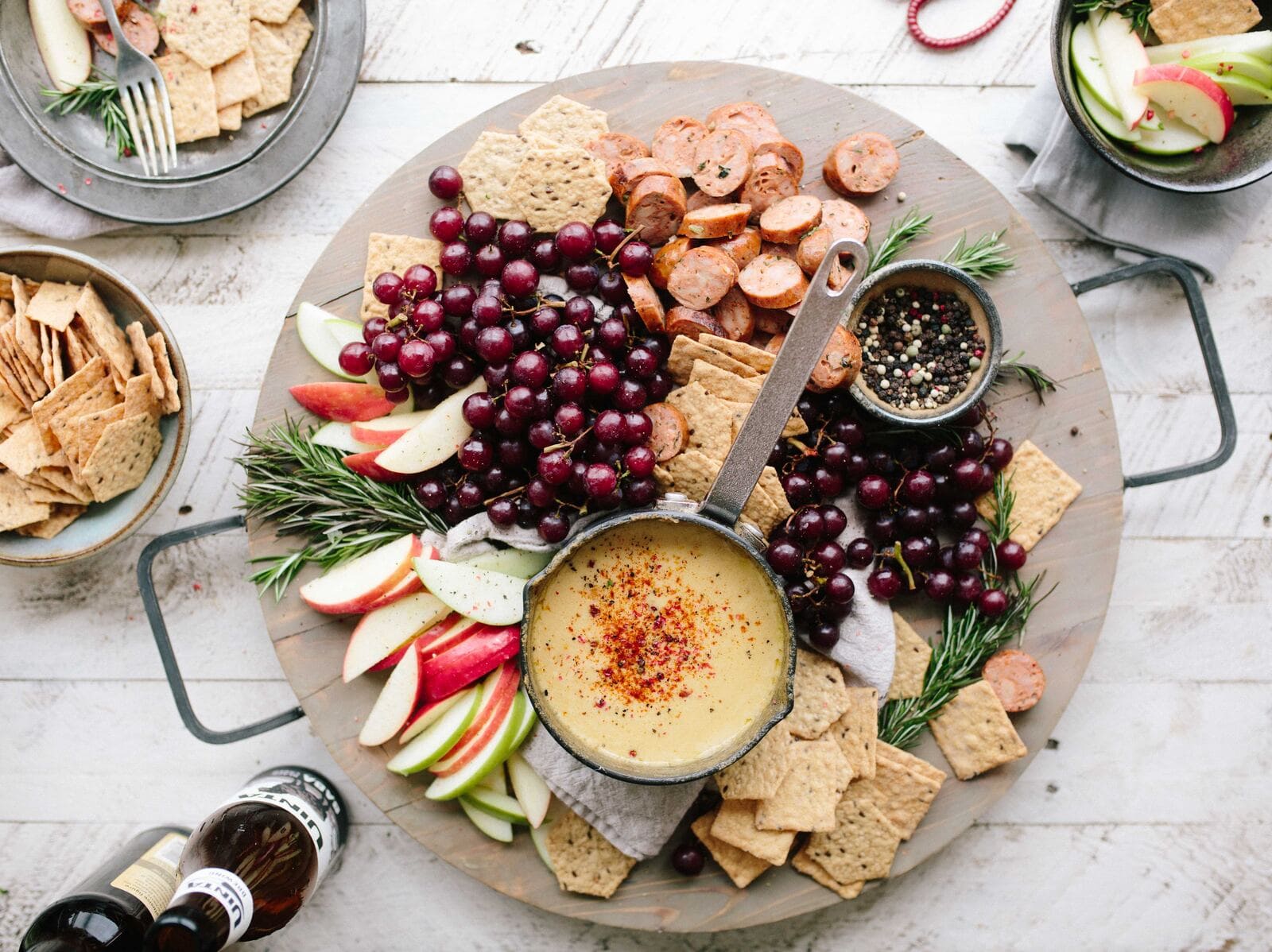 Photo by Brooke Lark on Unsplash
Hospiz Alm, St. Anton, Austria
At St. Anton, approximately 1 hour and 15 minutes away from Innsbruck Airport.
St. Anton is a great destination for après-ski plans and that makes it a remarkable ski resort for foodies. Hospiz Alm, located in St. Christoph am Arlberg, is upscale fine dining with traditional alpine decoration, gourmet balcony and a wonderful terrace to enjoy the sun. The opulent restaurant serves traditional Austrian cuisine, such as Tyrolean duck and filet of pike.
L'Atelier Edmond, Val d'Isère, France
At Val d'Isère, approximately 3 hours away from Geneva Airport.
Part of the illustrious Espace Killy ski area, Val d'Isere is a world-renowned luxurious destination with top-rated accommodations and restaurants such as L'Atelier Edmond, with 2 Michelin stars for chef Benoit Vidal. A little bit pricey, the food of L'Atelier Edmond is well-known in the region. The menu has references to the traditional local cuisine and includes dishes such as céleri and wild sorrel in sorbet or crawfish with candied lemon. Also, the brasserie food is delicious too and it has a more reasonable price compared to the other dishes. 
Azimut, Courchevel, France
At Courchevel, approximately 2 hours and 30 minutes away from Geneva Airport.
Courchevel is part of the famous Three Valleys ski area and one of the most exclusive ski resorts in France. The cosy and rusticCourchevel ski resort is also home to 7 Michelin-starred restaurants, with it being the resort with most Michelin-rated establishments in the Alps. Amongst these prestigious restaurants, Azimut stands out for its creativity in dishes like foie gras with caramel and braised chicory with orange and Porto cream.
Petit Royal, Courmayeur, Italy
At Courmayeur, approximately 1 hour and 30 minutes away from Geneva Airport.
The charming Courmayeur is one of the best ski resorts to enjoy the traditional home-made Italian cuisine combined with the alpine gastronomy. The chef of The Petit Royal, Paolo Griff, is considered one of the most promising cooks in Europe. His colourful dishes and his attention to local products has caught the attention of the gastronomy critics, giving him a Michelin star for his results at the Petit Royal.
Les Explorateurs, Val Thorens, France
At Val Thorens, approximately 2 hours and 30 minutes away from Geneva Airport.
Home to some of the smartest hotels in the French Alps, the resort also has prime restaurants for the most exquisite palates. Inside the 5-star Hotel Pashmina is Les Explorateurs, awarded with a Michelin star and with a colourful decor inspired by mountaineering expeditions. The signature dish of Josselin Jeanblan is a combination of sea scallops, Nori seaweed and truffle and declination of Jerusalem artichokes: yum!
Da Vittorio, St Moritz, Switzerland 
At St Moritz, approximately 2 hours and 45 minutes away from Zurich Airport.
Close to the Italian border, the three-times Michellin-awarded chef Fratelli Cerea decided to open a restaurant in St Moritz, a recognised destination for superb après-ski plans. Da Vittorio St. Moritz is located inside of the elegant Hotel Carlton and it has a beautiful view of the mountain. Stefano Bacchelli, the resident young chef, explores new dishes around the traditional Italian cuisine. Some of the dishes you should try are the risotto with smoked onion or the classic Paccheri alla Vittorio. 
Il Gallo Cedrone, Madonna di Campiglio, Italy
At Madonna di Campiglio, approximately 2 hours and 30 minutes away from Verona Airport.
Madonna di Campiglio has a traditional charm, with centenary buildings and barely being able to spot a car in the streets. Still, in the centre of the resort, Il Gallo Cedrone combines an updated and modern style with traditional Alpine decoration. The young chef, Sabino Fortunato, doesn't limit his menu to the traditional mountain cuisine and surprises the clientele with creative dishes with lobster and sea bass.
Piz Boè Alpine Lounge, Alta Badia, Italy
At Alta Badia, approximately 3 hours and 30 minutes away from Bergamo Airport.
With over half of the 130km piste marked blue, Alta Badia is a great destination for beginners, families and newbies who want to test themselves on the slopes. After trying your best for the first time, you deserve a fancy menu at Piz Boè Alpine Lounge with a stunning view of the valley. The restaurant offers Landin cuisine, a fusion of Italian and Tirolean styles that includes dishes such as carpaccio or barley soup. 
Le Chesery, Gstaad, Switzerland 
At Gstaad, approximately 1 hour and 30 minutes away from Sion Airport.
Gstaad is famous for skiers and non-skiers who are looking for a luxury holiday. Amongst the extravagant places you can go, Le Chesery is a Michelin-starred restaurant ran by the Chef Marcus G. Lindners. The dishes change depending on the season and the preferences of the chef, but always maintains an updated traditional approach of the Swiss Alpine cuisine with a wide choice of fishes.
L'Arlequin in Aime 2000, La Plagne, France
At La Plagne, approximately 2 hours and 30 minutes away from Geneva Airport.
The general quality of La Plagne is moderate, but some restaurants make the exception. One of these restaurants is L'Arlequin in Aime 2000, with a great customer service provided by Monique and Georges, famous in La Plagne for their hospitality. The alpine-homelike restaurant serves raclette, fondue and tartiflette, some of the must-eat food on your holiday in the Alps. Also, you can find other unique dishes such as their creamy risotto with morille mushrooms or a salmon and beef tartare.
Why book your airport transfer with us?
Flexible Booking
100% free cancellation
7 days before you travel.
24/7 support
In case you're delayed or need our help
No hidden fees
Skis, child seats, luggage and amendments are all included.
Loyalty Points
Earn Money off your next holiday transfer (ski, golf, cruise & more)
Global Coverage
Over 200+ ski resort destinations
Award Winners
Multiple World Ski Award Winners. 'World Best Ski Transfer Operator'.
Airport transfer types to suit all budgets